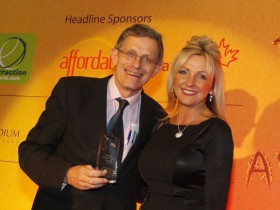 Simon Calder, the travel editor of The Independent newspaper in the UK, has taken top honours and been awarded Broadcast Travel Programme of the year for his 48 Hours in Bermuda with Simon Calder feature which ran earlier this year, following his trip to the island in February.
The prestigious national awards programme is created to recognise excellence and achievement within the fields of travel writing, photography and broadcasting in both trade and consumer press. Each award is judged by an advisory panel of senior travel industry executives.
Other nominees in the category included Alan Titchmarsh Travel Show on ITV, Touring Thailand with Amanda Statham for Travelguru TV and Cruising the Amazon with Ged Cleugh for the Travel Channel. The awards were officially presented at a reception in London on 21 November.
Simon Calder said: "For our film to be judged Broadcast Travel Programme of the Year – against strong competition in the incredibly crowded UK media – is a tribute to Bermuda and her people. It was a great privilege to return to Bermuda this year to make the film, and the welcome and support we received was outstanding. Creating an engaging film is always challenging, but the natural beauty, heritage and people of Bermuda made it a pleasure."
Minister of Business Development and Tourism Wayne Furbert said: "It is an honour to receive such an esteemed award and demonstrates our commitment to raising the profile of Bermuda with the UK market and continuing to showcase the island as a holiday destination with so much more to offer."
The 48 hours feature included a bespoke video for the Independent Travel Channel and a number of print features within the title showcasing the various cultural and historical elements of the island as well as the sheer natural beauty. Various podcasts were also hosted online and a number of traffic drivers encouraged people to visit the island. An online competition also ran for a lucky couple to win a trip to Bermuda to experience the island first hand.
Simon is regularly interviewed on TV about travel stories and events. He is a frequent guest on BBC Breakfast News, Daybreak, ITV News and, Sky News. He is also the presenter of Fast Track's Travel Clinic with Simon Calder on BBC World, where he answers holiday questions from viewers.
Read More About
Category: All