The Devonshire Cougars met up with the Dandy Town Hornets on New Year's Day for the Friendship Finals, with the Cougars walking away with the trophy after a penalty shoot out.
The game got underway with a long range shot from Devonshire Cougars' Drewonde Bascome which was comfortably saved by Dandy Town Hornets goalkeeper Treadwell Gibbons. Two minutes later Gibbons tipped a drive from Moses Steede to keep the score at 0 – 0.
In the 20th minute a free kick from Dandy Town's Damon Ming was headed goalward by Saki Tuzo, but Kioshi Trott dove to his right to make the save. Three minutes later the Devonshire Cougars came close to taking the lead, but no one could get on the end of a Jesse Seymour cross.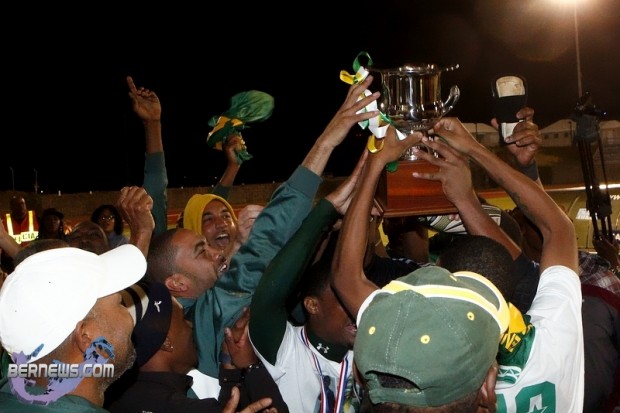 Dandy Town loss the services of K'wonde Lathan who was involved in a clash of heads incident with Lovintz Tota that resulted in Lathan being injured in the 43rd minute. In injury time Coddington had a shot go wide after Korvon Tucker had headed the ball down to his feet.
In the 60th minute Dandy Town Hornets' Jah-Quille Stowe weaved his way past several Devonshire Cougars players with the ball falling to the feet of Simmons whose shot was blocked. With Dandy Town still on the attack, Simmons' cross from the right went through a maze of players and with the entire goal open Caldre Burgess fired over the crossbar from six yards out.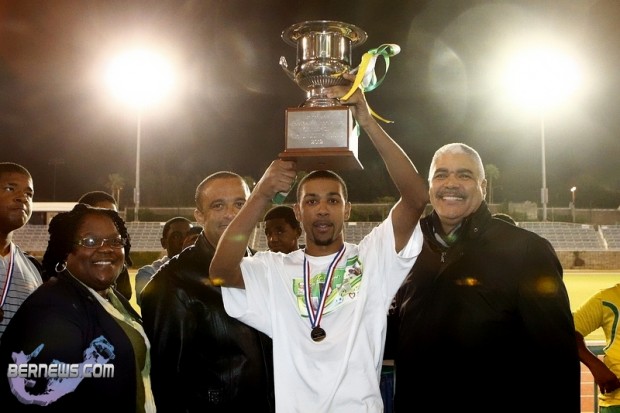 In injury time Gibbons denied Coddington who had a shot at the near post, and the game went to extra time. Neither team could break the deadlock in the extra 30 minute thus forcing the game to be decided by kicks from the penalty mark.
Penalty Kicks
Devonshire Cougars – Moses Steede – Scored
Dandy Town Hornets – Ajani Gibbons – Saved
Devonshire Cougars – Lovinz Tota – Saved
Dandy Town Hornets – Treadwell Gibbons – Scored
Devonshire Cougars – Chae Brangman – Missed
Dandy Town Hornets – Damon Ming – Scored
Devonshire Cougars – Korvon Tucker – Scored
Dandy Town Hornets – Sieon Darrell – Saved
Devonshire Cougars – Domico Coddington – Scored
Dandy Town Hornets – Angelo Simmons – Saved
Read More About