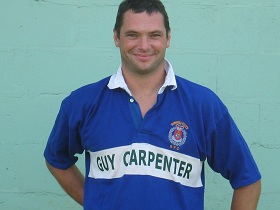 The 7th annual Paul Marsden Memorial Rugby game will be taking place this Saturday 19th January 2013 at 3:30pm at National Sports Complex north west rugby pitch. The Mariners Rugby Football Club will be looking to retain the trophy after last year's 22-12 victory.
Police Constable 2206 Paul Marsden [pictured] tragically died on the rugby field while playing rugby for the Bermuda Police Rugby Football Club on 22nd January 2006.
PC Marsden was an extremely likeable person who was well respected and admired as a police officer, rugby player and friend. His sudden death hit both the Police Service and the tight knit rugby community hard, as evidenced by the overwhelming attendance to his funeral service which had full police honours. His death was attributed to an unknown pre-existing heart condition.
This year the Bermuda Heart Foundation is partnering with the Bermuda Police Rugby Football Club with a view of supporting this annual event in an effort to raise heart health awareness. The Marsden family is extremely excited about this partnership as it represents a positive development coming out of a tragic event.
The Bermuda Heart Foundation will be running a family support day in conjunction with the rugby games being played at National Sports Complex. Refreshments, information pamphlets, family activities and a bouncy castle for children will be pitch-side starting at 1pm. The Paul Marsden Trophy will be presented by Bermuda Heart Foundation executive director Simone Barton.
Bermuda Police Rugby Football Club Chairman, Superintendent Sean Field-Lament, who will also be attending the memorial game stated: "I am buoyant about the inclusion of the Bermuda Heart Foundation as it widens the scope and meaning of the memorial game and has positive long term implications. It promises to be a very competitive game. Invariably it is played in the spirit that Paul epitomized."
Following the game, there will be refreshments put on at the Police Recreation Club (PRC) Prospect. All rugby colleagues, friends and associates are cordially invited to the PRC to take part in the celebration of Paul's life and contribution to Bermuda rugby.
Read More About