[Updated] The police have confirmed the three airline passengers — a 54 year old man, a 52 year old woman and a 22 year old man — who were arrested following a flight diversion have been released on police bail.
As Bernews reported yesterday, at approximately 9.00pm on Friday [Feb 1] a Sunwing flight on its way from Canada to the Dominican Republic diverted to Bermuda after three passengers created a disturbance with flight attendants.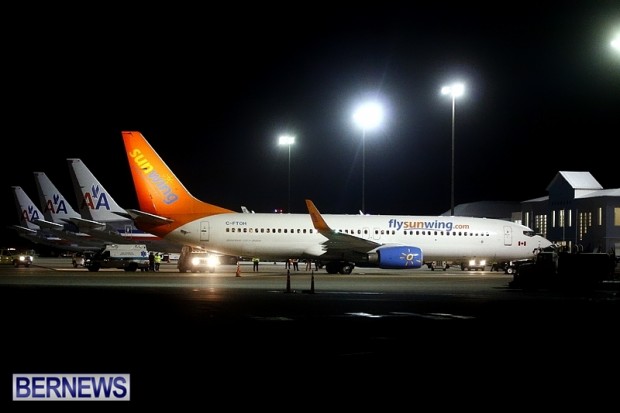 The three people — who appeared to be a family — were taken off the plane, and escorted by Police Officers into the Airport Police Station where they remained for over four hours.
In a statement issued today, a police spokesperson said, "Around 10pm on Friday, February 1st a Sunwing aircraft traveling from Canada to the Dominican Republic landed at the L.F. Wade International Airport in Bermuda, after a reported incident involving a few passengers during flight.
"The aircraft was met by police officers who liaised with the cabin crew. Three passengers, a 54 year old man, a 52 year old woman and a 22 year old man were subsequently arrested, processed and released on police bail pending further inquiries.
"The crew and remaining passengers were accommodated at Bermuda hotels overnight. The aircraft was scheduled to resume its journey on Saturday, February 2nd."
Update 3.55pm: CBC Canada spoke with Dave Shellington whose wife was on the Sunwing flight and explained to him what happened.
Mr Shellington said, "They were smoking in the plane's washroom and when they came out they got into a little bit of an argument with the attendants, they could not say where they put their cigarette butts and that caused a bit of a commotion. From there it kind of escalated…."
Read More About