[Updated] At approximately 9.00pm last night [Feb 1] a Sunwing flight on its way from Canada to the Dominican Republic diverted to Bermuda after three passengers created a disturbance with flight attendants.
The three people were taken off the plane, and escorted by Police Officers into the Airport Police Station where they remained for over four hours.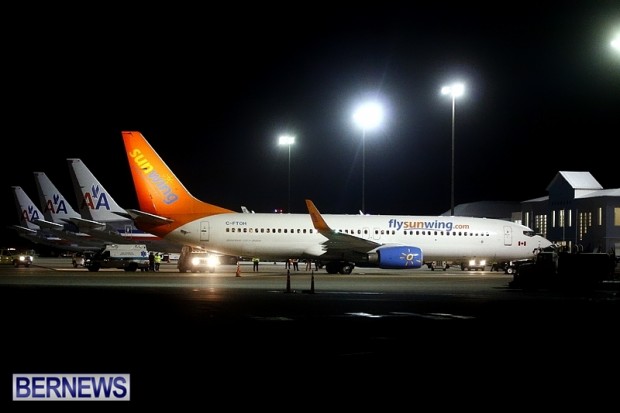 Police Media Manager Dwayne Caines confirmed that "unruly passengers" created a disturbance with a flight attendant and said the three people "were taken into police custody and have been bailed to appear before the Courts in the near future."
The three people remained in the Airport Police Station for about 4.5 hours, exiting at around 2.30am this morning, where they subsequently caught a taxi to a local hotel.
In addition to the three people the rest of the passengers on the airplane also disembarked, and were seen coming out at about 2am. The group — which appeared to be over 100 strong — all caught taxis to local hotels.
There was a minimal supply of taxis available at that hour, and some taxis were seen returning to collect a second group of passengers, and some of the passengers were seen still waiting for a taxi after 3am.
The flight — which was en route from Halifax, Canada to Punta Cana, Dominican Republic — is understood to be rescheduled for today. It remains at LF Wade Airport as of 9.15am this morning.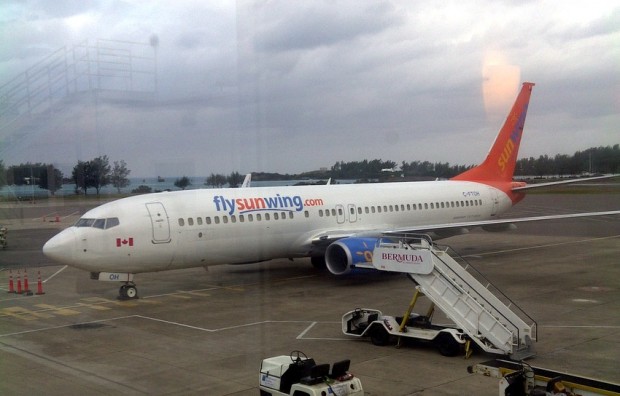 Update 5.10pm: The flight left the island at around 4pm heading to Dominican Republic. According to the Canadian media, the people were arrested for smoking on board the flight. CBC reports the family has been ordered not to leave the island and their passports and travel documents have been seized by the Bermuda police.
Read More About