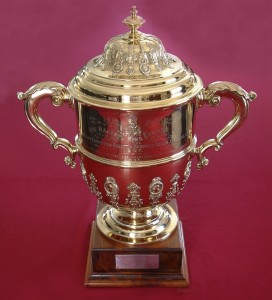 [Written by Talbot Wilson]
The Royal Bermuda Yacht Club and Argo Group have set the dates for the 2013 Argo Group Gold Cup. The penultimate event on the Alpari World Match Racing Tour is scheduled to start October 8th on Hamilton Harbour in Bermuda.
Racing will continue through the finals and the prize giving at the Royal Bermuda Yacht Club on Sunday October 13th.
All Gold Cup racing is spectator friendly with courses set in Hamilton Harbour from just off of the RBYC marina wall to the harbour shore along the gardens of the Fairmont Hamilton Princess Hotel. Special rates for Gold Cup week are available at the Hamilton Princess Hotel
This year will mark the 63nd staging of races for the King Edward VII Gold Cup Trophy, with previous winners including some of the greatest names ever to match race. Since the event was reformatted to be an event under the Match Racing Association in 1985, multiple winners include Chris Dickson [NZL], Russell Coutts [NZL], Peter Gilmour [AUS], and Ben Ainslie [GBR].
The Argo Group Gold Cup is the penultimate sixth stage of the Alpari World Match Racing Tour, in which the teams compete for the ISAF Match Racing World Championship. Match racing in Bermuda for The King Edward VII Gold Cup is recognized as one of the classic heritage events on the Alpari World Match Racing Tour.
The 11th annual Renaissance Re Jr Gold Cup will also be sailed October 10-13 in Bermuda.
Read More About