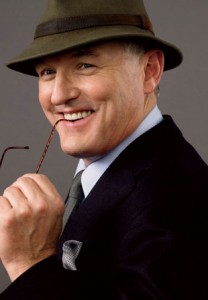 The "mess" in the title of Christopher Buckley's satirical 1986 novel "The White House Mess" supposedly refers to the White House food service run by the US Navy — but it more accurately describes the hapless administration of President Thomas Nelson Tucker [invariably known as TNT], whose re-election prospects collapse after he invades Bermuda.
Mr. Buckley [pictured] — son of the late "National Review" founder William F. Buckley — first began to visit Bermuda  when his father was a regular competitor in yachting events throughout the 1960s, '70s and '80s.
Father and son both became smitten by the island, its people and its idiosyncracies, with Buckley père going on to write about Bermuda at length in his magazine columns and books on blue water sailing.
He also incorporated a romantic Bermuda interlude into his 1982 novel "Marco Polo, If You Can", one of 12 bestselling Cold War thrillers he wrote about the spy Blackford Oakes.
An eloquent and formidably intelligent champion of political conservatism, William F. Buckley remained a regular visitor to Bermuda until his death in 2008 at the age of 82; in 1994 he famously broke his collarbone in a moped accident in Bermuda when his bike collided with another cycle while he was en route to the airport.
After a classical education at the Portsmouth Abbey School, Christopher Buckley, like his father, graduated from Yale University. He went on to become managing editor of "Esquire Magazine" and at one point worked as the chief speechwriter for Vice President George H. W. Bush
His first book — "Steaming To Bamboola" — was a 1982 non-fiction account of a year he spent on a tramp steamer, "Bamboola" being a Filipino steward's mispronounciation of Bermuda. Four years later his debut novel — featuring an international crisis centred around Bermuda — was embraced by critics and readers alike, with one Los Angeles reviewer saying "The White House Mess" worked "on two levels: It is both a spoof of the White House memoir, a genre that has, of late, proliferated to excess, and a biting, black satire on politics and the presidency.
"It is perhaps the best comic novel published in America in recent memory."
In a burlesque of the then recent 1983 invasion of Grenada by US forces ordered by President Ronald Reagan, the book culminates with a Marxist cell surprising itself — and the world — by successfully staging a coup d'etat in Bermuda.
The island's new leader MaKopo M'Duku [formerly Cedric Pudlington] rounds up Front Street sweater and cashmere salesmen and forces them into revolutionary re-education camps erected on Bermuda's swankier golf courses.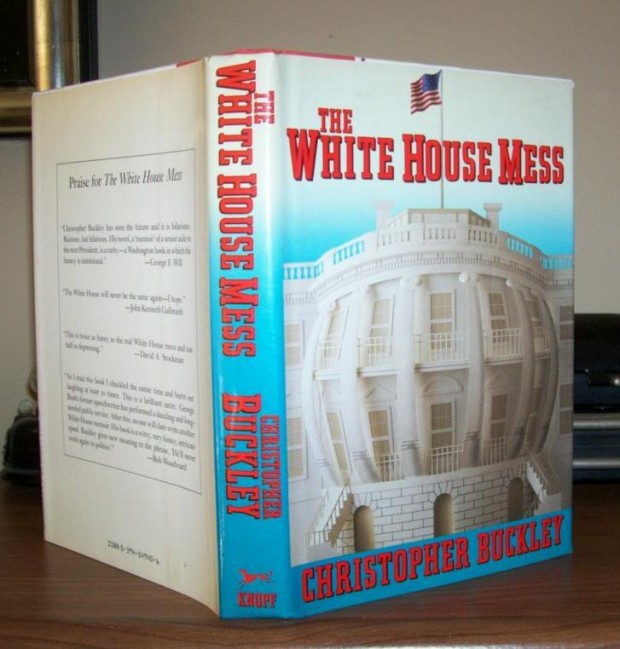 More pointedly, the local firebrand challenges US President Tucker to intervene when he threatens to occupy the US Naval Air Station in Bermuda.
This leads the indolent first brother to side with the Bermuda revolutionaries and a national security advisor being taken hostage on the island when he attempts to broker an entente with M'Duku.
With an eye for local detail and a clear understanding of how the small-change of Bermuda political life sometimes assumes entirely disproportionate importance, Mr. Buckley allows a local kerfuffle to spill over onto the world stage and escalate until it takes on geopolitical significance — ultimately bringing down a President.
"Mr. Buckley has an antic sense of humor and a capacity for transforming the unlikely into the ludicrous," said a "New York Times" critic. "This is clear from … some of the predicaments Mr. Buckley has dreamed up to deface the Tucker Presidency and make it the worst — and funniest — in American history.
"Chief among these imbroglios is the final crisis in which the President is forced to declare war on Bermuda, though not before removing his brother, Dan Tucker, who has threatened to immolate himself in the event of an invasion, and his National Security Council director, Marvin Edelstein, who has gotten himself kidnapped during his secret negotiations."
When President Tucker uses non-lethal gas to subdue the Bermuda insurgents during a helicopter raid on their Hamilton headquarters, the worldwide condemnation of the US is swift, fierce and unrelenting; President Tucker goes on to lose the 1992 election to former Vice-President George H.W. Bush.
"This first novel, combining insider's knowledge with a wicked gift for satire, marks Buckley as a talent to watch," said the "New York Times."
Mr. Buckley has gone on to write a series of bestselling political satires including "Thank You For Smoking" — a mordant spoof of Big Tobacco's lobbying strategies in Washington DC — which was made into a 2005 movie.
He also published a well received 2009 memoir of his parents titled "Losing Mum And Pup."
A one-time contributor to "National Review" — the conservative magazine founded by his father — Christopher Buckley parted ways with that publication after he endorsed Barack Obama in an October, 2008 column posted at the online "Daily Beast."
Christopher Buckley 2009 interview at California Writers Symposium By The Sea
Read More About
Category: All, Entertainment