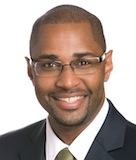 Shadow Minister for Transport Lawrence Scott said the decision to contract a non-Bermudian company at a cost of over $1 million is "very disturbing," and becomes "more troubling as it appears that the OBA failed to give first, fair, due consideration to Bermudian companies."
Earlier this month Transport Minister Shawn Crockwell said chartering the ''Millennium' will cost $1.2 million dollars, which was considerably cheaper than the other option available, which was the outright purchase of a new boat which would cost approximately $6 million and would also require considerable infrastructure improvements.
"We deemed that the leasing of the 'Millennium' was the most viable and cost effective option," said Minister Crockwell. The situation had created labour unrest, with ferry service suspended for just over 24 hours in mid-March as the Marine & Ports workers expressed dissatisfaction with the way matters were handled.
Speaking today [Mar 31] Shadow Minister for Transport Lawrence Scott [pictured] said that the "process for selecting companies paid from the public purse must be open, honest, fair, accountable and the interest of Bermudians respected."
Mr. Scott said, "The OBA's decision to contract a non-Bermudian company at a cost of over one million dollars to Bermudian taxpayers is very disturbing. This decision becomes more troubling as it appears that the OBA failed to give first, fair, due consideration to Bermudian companies."
The Shadow Minister said that "in his view the Minister of Tourism had seriously breached the spirit (if not the letter) of the Marine Board Act 1965 Section 77 subsection 5 & 6 (30 day notice in the Gazette and one other locally printed newspaper) in the process he used to select a non-Bermudian ferry company to provide a tender service during our cruise season."
Mr. Scott said that the Minister was "waving a red flag in the face of organized labour in apparently violating the Collective Bargaining Agreement Article 22 Section 4 [60 day written notice to the Unions of the ministry's intentions] when he high handily contracted this non-Bermudian company – with little or no consideration to the impact his decision would have on Bermudian union members, jobs and local tour operators who were ready and willing to assist in the provision of transportation of passengers to and from the cruise liners."
The Shadow Minister concluded by saying that the OBA has "displayed a disturbing reluctance to answer questions, keep their promises or put Bermudians first, in this matter and the people deserve to know if the OBA is indeed considering themselves above the laws that govern us all."
Read More About