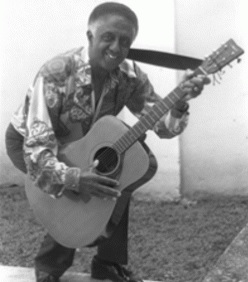 Dread & Baha's groundbreaking 1997 documentary "The Birth of a Trust: Bermuda's History Through Music" is now available on line — a sweeping overview of entertainment in Bermuda as seen through the eyes of many of the country's most notable musicians.
The film documents the evolution of local music scene from the big band era of the 1940s and 1950s, through the popular "Battle of the Groups" at the Rosebank in the late '60s and '70s, up to the dancehall clashes of today.
The 45-minute documentary touches on Bermuda's many musical traditions and the emergence of talented local artists in such diverse fields as reggae, calypso and jazz.
It features local legends like Hubert Smith [pictured], Ghandi Burgess, Lance Hayward and Michael Curtis Clarke and highlights the accomplishments of present day artists like Ras Giorgis and now retired soundsystem "Playboy International".
The film also looks at how the music reflected the social changes that were taking place at any particular point in our history; from World War II, to the volatile 60′s and 70s with the assesination of the Governor and the riots, and the 1981 general strike.
 "The Birth of a Trust: Bermuda's History Through Music"
Read More About
Category: All, Entertainment, History, Videos