[Updated with video] Stephen Allen and Tamika Williams raced to victory in the 11th Annual Eye Classic this morning [Apr 7]. Allen crossed the line in a time of 16:08, with winter Olympian Tucker Murphy finishing second in 17:24 and 2013 Carifta Games runner Daniel Oatley finishing third in 18:19.
Allen & Williams after the race: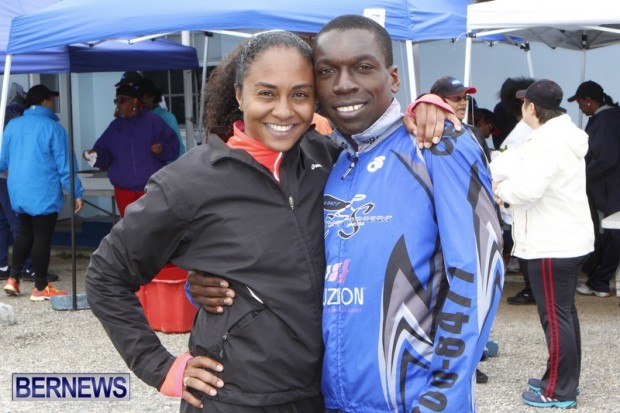 Williams was 10th overall with a time of 20:26, while Shona Palmer was the second female finisher and 14th overall with a time of 21:11 and Stepanka Sprincova was the third female finisher with a time of 21:29 finishing 16th overall.
Video of the start of the race:
Jayden Ming ran to victory in the 12 and Under Division crossing the line in a time of 10:36, he was followed by the first Female finisher Lynsey Palmer who clocked 10:37, Iziah Tucker was third in 10:44 and Messiah Greaves finished fourth in 11:24.
The full results follow below:
1 Stephen Allen 16:08
2 Tucker Murphy 17:24
3 Daniel Oatley 18:19
4 Geoffrey Blee 19:05
5 John Thompson 19:21
6 Chefton Hall 19:24
7 Charlie Withers-Clarke 19:41
8 Stuart Palmer 19:56
9 James Keyes 20:18
10 Tamika Williams 20:26
11 Mike Osborn 20:37
12 Christopher Jones 20:39
13 Karl Wilson 20:54
14 Shona Palmer 21:11
15 David Hoey 21:26
16 Stepanka Sprincova 21:29
17 Lesley Ndlovu 21:43
18 Krista Dyer 21:47
19 Frederick Steede 21:58
20 Lloyd Withers 22:04
21 Charlie Keyes 22:13
22 Denis Rowe 22:15
23 Owen Neal 22:40
24 Timothy Palmer 22:45
25 Matthew Viney 22:46
26 Shane McIlwain 22:58
27 Jordan Coursen 23:01
28 Edward Fisher 23:07
29 Hilary Commane 23:25
30 Rebecca Harrison 23:37
31 Che Beane 23:47
32 Robert Spurling 23:49
33 Laura Keyes 24:00:00
34 Carol Griffith 24:09:00
35 Aesop Smith 24:26:00
36 Clementine Keyes 24:30:00
37 Britt Reiss 24:51:00
38 Andy McComb 24:52:00
39 Danielle Way 24:53:00
40 David Soutter 24:55:00
41 Steven Coursen 25:12:00
42 Christopher Osborne 25:23:00
43 Lara Rogers 25:34:00
44 Gerhard Boonstra 25:34:00
45 Richard Howells 26:22:00
46 Gretchen Goodbody-Gringley 26:37:00
47 Ian Hind 26:45:00
48 Charles Harvey 26:57:00
49 Susie Gardiner 27:10:00
50 Darnell Wynn 27:18:00
51 Marjorie Oliver 27:34:00
52 Nicola MacDougall 28:11:00
53 Natalie Dyrli 28:22:00
54 Andrea Osborne 29:00:00
55 Jean Folsom 29:16:00
56 Robert Oliver 29:21:00
57 Elizabeth Southern 29:23:00
58 Lisa Ferrari 29:38:00
59 Mechelle Willins 29:42:00
60 Edwina Arorash 30:27:00
61 Andrene Bean 30:40:00
62 Sarah Palmer 30:57:00
63 Keith Griffin 31:15:00
64 Donna Mae Arorash 31:43:00
65 Nicole Rochester 32:08:00
66 Jaime Ferrari-Mccomb 32:42:00
67 Alshia Lugo 33:24:00
68 Karima Stevens 35:09:00
69 Tiffany Swainson 35:35:00
70 Jahan Cedenio 36:56:00
71 Alan Lugo 38:53:00
72 Tiana Outerbridge 40:28:00
73 Juanita Blee 40:28:00
74 Kelly Rodday 40:28:00
75 Laura Sikora 42:48:00
76 Latoni Viera 43:52:00
77 Sita F. Ingram 44:28:00
78 Dionne Darrell 44:56:00
79 Terlena Murphy 46:58:00
80 Francine Dill 48:19:00
81 Colleen English Degrilla 49:00:00

Runners [12 and under]
1 Jayden Ming 10:36
2 Lynsey Palmer 10:37
3 Iziah Tucker 10:44
4 Messiah Greaves 11:24
5 Robert Thomas 11:30
6 Alexander Southern 11:33
7 Yari Tucker 11:45
8 Zahra Wilson 12:39
9 Kerry Palmer 12:53
10 Christen Lugo Elibox 13:00
11 Jerlayah Kenney 13:02
12 Jarryd Richardson 13:03
13 Isaiah Greaves 13:54
14 Kimora Rubaine 14:30
15 Naziah Robinson 14:37
16 Kyran Jones 14:41
17 Nazarai Fox 14:46
18 Joanna Santiago 15:48
19 Eliza Withers-Clarke 20:29
20 Shalom Cannonier 44:22:00
21 Aspiro Cannonier 44:22:00
22 Ashrey Cannonier 44:30:00

Competitive Walkers [All Ages]
1 Caleb Jn-Pierre 32:25:00
2 Gary Young 36:51:00
3 Ray Medeiros 37:03:00
4 Sheena Young 39:42:00
5 Gilda Cann 40:10:00
6 Lovette Tannock 44:33:00
7 John Howells 45:13:00
8 Sherline Senior-Lowe 45:31:00
9 Angela Todd 48:23:00
10 Graceann Lightbourn 48:32:00
11 Vanessa Taylor 49:32:00
12 Kanerika Hughes 50:19:00
13 Linda Hanson 53:18:00
14 Colleen Sinclair 56:14:00
15 Lesline Rose-Smith 1:00:45

Charity Fun Walkers
1 Gregory Simons 43:31:00
2 George Sutherland 47:13:00
3 Peter Lever 47:13:00
4 John Tester 47:13:00
5 Karen James 48:03:00
6 Laurie Shiell 48:41:00
7 Sarah Thompson 48:41:00
8 Lorin Darrell 49:01:00
9 Karen Stroeder 49:38:00
10 Linda Paynter 53:47:00
11 Belinda Cyrus 55:27:00
12 Floyd Jennings 55:28:00
13 Elizabeth Bradshaw 1:01:55
-
Click to enlarge photos:
Read More About