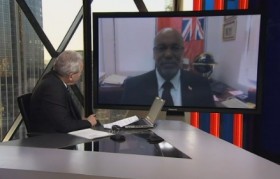 Yesterday [May 2] Minister of Finance Bob Richards appeared on Sky News to discuss Bermuda's decision to negotiate and sign a FATCA Intergovernmental Agreement [IGA] Model 2 with the USA, the UK, and the G5 European Union countries once the G5 European Union Multilateral FATCA is established.
This agreement will essentially result in financial institutions in Bermuda automatically sharing the details of both British taxpayers' investments located in Bermuda and also the details of persons who are subject to tax in the G5 EU countries under the proposed EU Multilateral FATCA. This would be done directly by Bermuda financial institutions to the tax authority in those countries.
The article was entitled "Tax Havens Open Doors To HMRC," and said the deal signed by some British Overseas Territories [Anguilla, Bermuda, British Virgin Islands, Montserrat and the Turks & Caicos] to automatically share information with the UK, will include passing on names, addresses, dates of birth, account numbers, account balances and payment details and the move also extends to some accounts held by trusts.
The Minister spoke about the benefits of this decision for Bermuda, and what it might mean for various financial institutions. The full interview, which was conducted via Skype, can be viewed here on Sky News.
Read More About