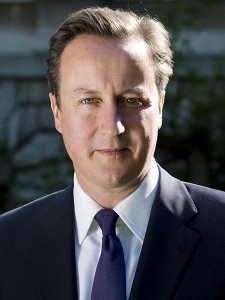 British Prime Minister David Cameron has asked senior ministers of ten overseas territories and crown dependencies – including Bermuda – to London on the eve of this month's summit meeting of the eight largest industrialised nations to sign an international agreement to share tax information.
Britain's "Guardian" newspaper reported that Bermuda, the British Virgin Islands, the Cayman Islands, Gibraltar, Anguilla, Montserrat, the Turks and Caicos Islands, Jersey, Guernsey and the Isle of Man will be invited to commit to an  Organisation for Economic Cooperation & Development [OECD] convention to give mutual assistance in tax matters.
The move was sparked — in part — by an international outcry over revelations that Google funnels profits from its British operations  through Ireland and the Netherlands to Bermuda — with the company paying an effective rate of less than one per cent
Mr. Cameron [pictured] has said the issue of tax avoidance by multinational corporations will feature prominently at the June 17–18 Group of Eight [G8] summit of leading industrialised nations.
The G8 comprises of Canada, France, Germany, Italy, Japan, Russia, the United Kingdom and the United States.
Last month the Prime Minister sent a letter to those British overseas territories and crown dependencies which maintain large financial services sectors — including Bermuda – asking them to "get their house in order" when it came to companies operating in their jurisdictions which exploit loopholes in international tax codes.
In his response to Mr. Cameron, Bermuda Premier Craig Cannonier said the island is "recognised internationally for its integrity and transparency as a centre for legitimate international business."
And on Monday [June 3], Finance Minister Bob Richards told the Reuter news agency that Bermuda is not to blame for companies such as Google using local subsidiaries to shelter billions of dollars from U.S. and European tax authorities.
Mr. Richards said the island has not intentionally facilitated such profit shifting and gains little from the Bermuda-registered affiliates.
"Bermuda is not a tax haven," he told Reuters. "We didn't pass a law to say that the Googles of this world don't get taxed."
Mr. Richards said it was impractical for Bermuda to change its tax rules to stop corporate profit shifting and that it is the responsibility of other countries to tackle the situation.
The UK Prime Minister and his Chancellor of the Exchequer George Osborne are reportedly still unsure over how far they will press the G8 on measures to make it easier to reveal owners of companies and assets, with the US and Canada resistant.
Mr. Cameron, along with Deputy Prime Minister Nick Clegg, plans to chair a tax and transparency conference on the weekend before the G8 summit, looking at the possibility of the dependencies signing up to the OECD convention on Saturday, June 15.
Read More About