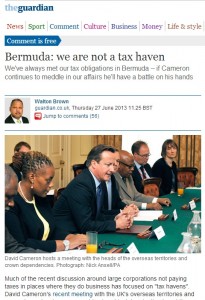 Pembroke Central Member of Parliament Walton Brown says British Prime Minister David Cameron "extended the reach of the UK beyond its constitutional powers" by asking Bermuda to attend this month's pre-G8 London meeting on international tax avoidance.
In a column published on the UK's "Guardian" website today [June 27], Mr. Brown said under the island's constitutional arrangements "Bermuda retains power over economic and fiscal matters, not the UK", arguing that the Prime Minister's efforts to get Bermuda to sign a tax avoidance treaty with the UK at the hastily convened June 15 meeting did not "bode well for the future."
"If Britain continues down the path of meddling in the economic affairs of overseas territories and seeming to dictate a course of action, particularly while the territories are already working to meet international obligations, there will be a battle akin to that of David and Goliath," wrote the Progressive Labour Party Parliamentarian. "But for the David that is Bermuda the recourse may simply be the path to autonomy."
Bermuda and other British Overseas Territories — the Cayman Islands, British Virgin Islands, Turks and Caicos, Montserrat and Anguilla — were asked to attend the London talks by the Prime Minister who said he was seeking more transparency to end what he called the "scourge of tax evasion".
Representatives from the UK Crown Dependencies Gibraltar, Jersey, Guernsey and the Isle of Man also attended the London meeting, held in the run-up to the Group of Eight [G8] summit of leading industrialised nations hosted by Britain in Northern Ireland.
Following the meeting there were conflicting reports, with UK Prime Minister David Cameron saying the Overseas Territories and Crown Dependencies signed up to the multilateral convention, while Premier Craig Cannonier said that Bermuda "has not signed any agreement at all" and neither had the other Overseas Territories.
After the London meeting was announced in early June, Mr. Brown said: "The proposed approach to go to London, to be berated to be chastised is highly inappropriate…This is grandstanding on the part of the UK Prime Minister, and we should not be participating in it."
You can read Mr Brown's full column, which has attracted over 70 comments so far, here on the Guardian's website.
Read More About