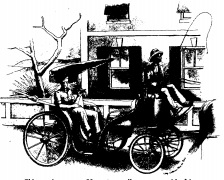 Long before he was assisting editor George Plimpton at the legendary "Paris Review", illustrator and writer William Pène du Bois was helping American enlisted men negotiate Bermuda's next to-non-existent nightlife during World War Two [1939-1945].
American military personnel began to pour into Bermuda in 1941 when work began on US Army and Navy bases at the East End and in Southampton after London provided Washington with 99-year land grants here as an extension of the September, 1940 Destroyers for Bases Agreement.
New Jersey native Mr. du Bois [1916–1993] was among them, stationed in Bermuda shortly after entering the US Army in March, 1941.
Just 24-years-old at the time, he had already written, illustrated and published six books characterised by his whimsical stories and artwork.
Assigned to an artillery unit in Bermuda, Mr. duBois worked as a correspondent for the military's "Yank" magazine and also edited his local camp newspaper and illustrated strategic maps.
In the April 9, 1943 edition of the weekly "Yank" he published an article headlined "Bermuda Bound: Soldiers There Find It's Quiet and Expensive."
Attempting to advise soldiers, sailors and airmen newly deployed to the island about how they could spend their off-duty hours, Corporal duBois — as he was then — admitted leisure time activities in Bermuda were as small-scale as the island' itself.
"… even on a Saturday night [Hamilton] a pretty dead proposition," he said. "There are three movie houses that show the same pictures we get at our own War Department theater, two bars open to enlisted men, and a United Services Club.
"Perhaps the most famous landmark in all Bermuda for the enlisted man is the Phoenix Drug Store. If is the place where every sort of meeting is arranged — a hangout for drug-store cowboys who look upon it with nostalgia as the part of the islands most closely resembling the American landscape.
William duBois illustration of Hamilton policeman directing US sailor to left side of the road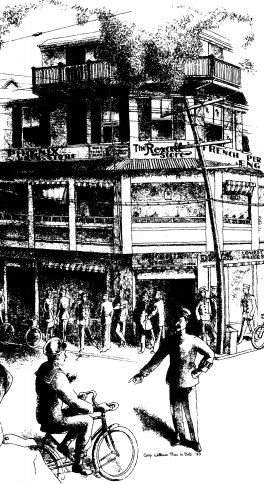 "Transportation is the biggest gripe. If you manage to get a date, there are no cars. Horse-drawn carriages [one Mr. duBois drew is pictured at top] are the only satisfactory answer and they cost a fortune.
"If you take a girl out for supper and dancing, the cost of your evening will run something like this: $8 for food and drink,$12 for the carriage, total $20. And that is only the average price. It's often higher."
After leaving Bermuda — and the military — Mr. duBois won the prestigious Newbery Medal in 1948 for his children's book "The Twenty-One Balloons."
As an illustrator he was a runner-up for the companion Caldecott Medal in 1952 for "Bear Party" and in 1957 for "Lion."
From 1953 to 1960, he worked with writer  George Plimpton as the art editor for the quarterly "Paris Review" literary magazine.
"Bermuda Bound: Soldiers There Find It's Quiet and Expensive."
Standing one Thursday afternoon on the corner of Queen and Reid Streets, the Broadway and 42d Street of Hamilton, capital of Bermuda, I was approached by a bunch of sailors just of a ship who asked me in dead earnestness, "Where is the town down here?"

Maybe it's unfair to judge Hamilton by a Thursday afternoon when everything is shut up tight, but even on a Saturday night it's a pretty dead proposition. There are three movie houses that show the same pictures we get at our own War Department theater, two bars open to enlisted men, and a United Services Club.

Bars in Hamilton run in three categories. There are the snooty ones that actually display, right out in the open, brass plaques with such inscriptions as "Here one wears one's coat and stockings and leaves one's dog at home," or "All facilities for the pleasure of its guests — civilians and commissioned officers."

The term "dogs" seems to apply also to dogfaces; an enlisted man might sneak past the doorman but he would never get waited on.

At the other extreme are a few joints off limits, and in between a couple of bars where an enlisted man may go. These are enjoying a thriving business and are slowly deteriorating from lazy lack of competition.

All liquor but beer is cheap in Bermuda, averaging around 40 cents for all whiskies, 30 cents for rum, 50 cents for brandy and liqueurs. Beer is 20 cents at the USC and 30 to 40 cents at local bars. Bars without a restaurant license close at 10 p.m. and those with a restaurant license at 11 p.m.

The United Services Club occupies the floor of the Hamilton Hotel. It offers ping pong, a couple of beat-up pool tables, magazines and two typical Bermuda dances every week [15 men to one girl].

It is not a very exciting club.

Perhaps the most famous landmark in all Bermuda for the enlisted man is the Phoenix Drug Store. If is the place where every sort of meeting is arranged — a hangout for drug-store cowboys who look upon it with nostalgia as the part of the islands most closely resembling the American landscape.

Transportation is the biggest gripe. If you manage to get a date, there are no cars. Horse-drawn carriages are the only satisfactory answer and they cost a fortune. If you take a girl out for supper and dancing, the cost of your evening will run something like this: $8 for food and drink,$12 for the carriage, total $20. And that is only the average price. It's often higher.

Bermudians call all spectacles except sports events "concerts." A play is called a concert. A magician and trained dogs performing on somebody's lawn are a concert. Any act with live talent is a concert and Bermudians love live talent.

Some enlisted men from a Coast Artillery outfit down here put on a show called "Gone With the Draft" that really knocked Bermuda out. An amateur production, this "concert" played to enormous audiences all over islands.

Cricket matches and track meets receive plenty of attention. The US Army entered a military track meet and took a nice trouncing from the Bermudian troops. Favorite event in these meets is the tug-of-war. Soccer also is very popular.

This year, the U . Army caused a sensation by coming within one point of being champions of the Bermuda League. To beat Bermudians at their own game would have been almost too much.

It seemed strange for a US team to do so well until it was discovered that our eleven was made up of Americans from seven nations, some of whom had played soccer in their native lands.

Bermuda is by no means a tough post. The battle of Bermuda is a battle against monotony and a sort of damp, semi-tropical numbing atmosphere that kills ambition. After the recruit has shouted himself blue in the face voicing his many complaints, he settles down and becomes an almost complacent victim of Army routine.

He finds himself, if not too contented, at least resigned.

But there are practically no women in Bermuda, and as those sailors just off a ship expressed it so well, "Where is the town here?"
-
Read More About
Category: All, Entertainment, History