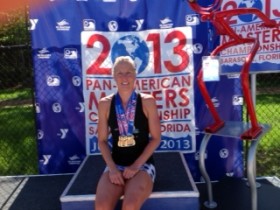 Bermuda's Lisa Blackburn won four gold medals at the recent Pan American Masters Swimming Championships held in Florida, swimming to victory in the 50, 100 & 200m breaststroke as well as the 200 individual medley.
In addition to the four gold medals she won, she shattered Canadian Masters records in all of her swims. Her times in each of her 4 events also rank her as the number 1 US Masters swimmer within her age group.
Speaking after the competition, Ms Blackburn said: "This meet provided me with an excellent opportunity to race long course for the first time this year. All of my races were a good starting point and I know that I will continue to improve at the next several meets.
"My best swim of the weekend was no doubt the 50 breast. I am really happy with my performance and I know that I can improve this time, as I did make a couple of small errors during the race. As I gear up for the major competitive swimming season, I have several goals that I am aiming for.
"I know that with increased long course meter training at the new National Sports Center, and with more strength work, I will improve my chances of swimming faster in the next few weeks."
Ms Blackburn said she would like to thank US Masters Swimming for putting on a "top notch competition that was run very efficiently." She will remain in Naples, Florida to train with coach Paul Yetter at T2 Aquatics until Sunday [June 16] when she will return home to Bermuda.
According to the event website, the Championship attracted up to 2,000 adult swimmers from the South America, Central America, the Caribbean, Mexico, Canada and the USA.
Read More About