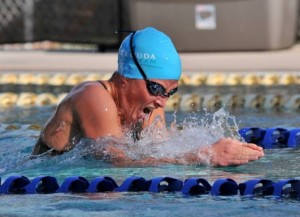 Bermuda's Lisa Blackburn put on a tremendous showing at the 2015 Rowdy Gaines Classic in Florida, shattering the Masters World Record with a time of 1:04.19.
Her time — which is also a new Bermuda record — broke the previous record of 1:04.25 set by American Olympic medalist Susan Von Der Lippe back in 2008.
Ms Blackburn was competing in the Women's 40 – 44 age group 100m short course IM when she clocked the winning time of 1:04.19, which is also a lifetime best for the swimmer.
She also improved her time in the 50 free by half a second finishing in a time of 26.50, which also marked a lifetime best for her.
"It's been a fun day of racing and it's very positive to have some fast swims this early in the season," Ms Blackburn told Bernews. "To swim lifetime best times in two events is a huge bonus and pretty exciting."
Ms Blackburn added, "I couldn't have done it without my awesome teammates at SOFLO Aquatic Club and my Coaches [Bruce Marchionda, Chris Anderson, Ben Smith]. Thank you for being great friends and continuing to believe in me."
"Thanks also to the Bermuda Olympic Association, Validus, NeoLife, Rodmat Solutions, Athleta, Jolyn and my family."
Ms Blackburn will be racing in the 200 IM today, then getting back to training again on Monday morning.
Read More About