Bermuda's youth footballers from the Bermuda Brazilian Football School [BBFS] continued competing in the Brondy Cup in Denmark, with BBFS recording a draw and a loss on the third day of the competition.
BBFS recorded a draw and a loss on the third day of the Brondby Cup. BBFS were held to a scoreless draw vs. BK Skjold and were defeated 3-1 by Vallensbaek both of Denmark.
In the opening game vs Skjold, BBFS had three clear cut chances to score but for the first time during the tour, were unable to find the net. Skjold had a few chances of their own but were also unable to convert their chances.
BBFS and Vallensbaek Team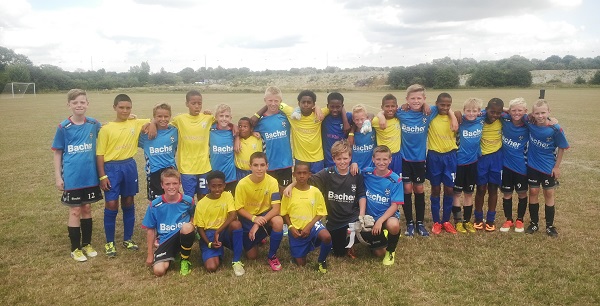 Game 6 of the round robin saw BBFS lose 3-1 vs Vallensbaek. Vallensbaek took the lead after ten minutes but Erik Correia equalized on the stroke of half time.
In the second half Vallensbaek earned a penalty but Michael Williams dove full length to save the kick from the penalty mark. He received a few bruises but managed to recover and continue his fine form in goal.
Vallensbaek would score twice more to earn a spot in the group final on Friday morning.
Read More About