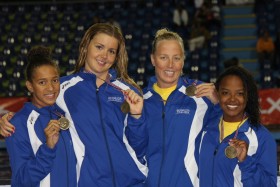 Bermuda swimmers have finished competing in the 2013 Central American & Caribbean Championships in Costa Rica, claiming 14 medals, including 6 golds, in the field of over 2,200 swimmers from some 19 nations.
On the final day Bermuda picked up an additional four medals, with Jesse Washington claiming a silver and a bronze, Ashley Yearwood winning a silver medal, and the women's 4×100 freestyle relay [Stephanie Myles, Rebecca Heyliger, Lisa Blackburn, Ashley Yearwood] claiming another gold medal.
Bermuda's top medalist was Lisa Blackburn, with the 42-year-old veteran capturing five medals — four of them gold — as well as being a part of both gold medal winning relay teams. Jesse Washington, Ashley Yearwood, Shannon Hassell, Stephanie Myles, and Rebecca Sharpe also added to Bermuda's medal tally.
National Swimming Coach Ben Smith said, "We are hoping that the results of this meet, along with the results of the recent Coral Springs Invitational, the Carifta Championships and indeed the last several years of results, will be noticed and will allow Bermuda Swimming to reach 'National Sport' status and enable us to get the support that will take us to the next level in international competition.
"We have a great mix of young future stars and veterans that have shown their worth year after year. The personal sacrifices, time and hard work that all of our swimmers, volunteers, parents and supporters put in are incredible, and a real testament to the discipline needed to excel in this sport."
"We remain quietly patient and optimistic but it is time that this sport receives the credit that it deserves. Our dedicated athletes have been delivering impressive results for a number of years now and these results should be enough to garner the necessary support so that we can continue to represent our Island internationally, continue to bring home the medals and continue to develop these individuals into residents that will contribute to our Island's future success."
Read More About