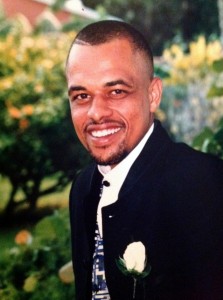 Colford's Family Against Violence and the family of Rudy Smith will be holding a candle light vigil in honour of Rudy Smith this coming Wednesday [July 24] at the Evening Light Church Parking Lot on Parsons Road from 8:30pm.
The date was chosen as it marks Mr Smith's birthday.
Music will be provided by Star Lyfe — a sound sound founded by murder victim Haile "Star Child" Outerbridge — and his partner Jimmy Tunes. The public is welcome, and encouraged, to attend.
Mr Smith [pictured] disappeared a year ago, and the police have officially classified his disappearance as a murder.
He was last seen on 9 July 2012, and the police located Mr Smith's motorbike in the waters in front of Grace Church on North Shore on 16 July 2012.
The case remains open, and anyone with information is urged to contact the Serious Crime Unit in confidence at 247-1185 or alternatively to call the confidential & anonymous Crime Stoppers hotline on 800-8477.
Read More About