The family and friends of Colford Ferguson hosted a candlelight vigil at Eastshore Road, Sandys this evening [Feb. 13] — the same area where the 29-year-old was fatally shot last week.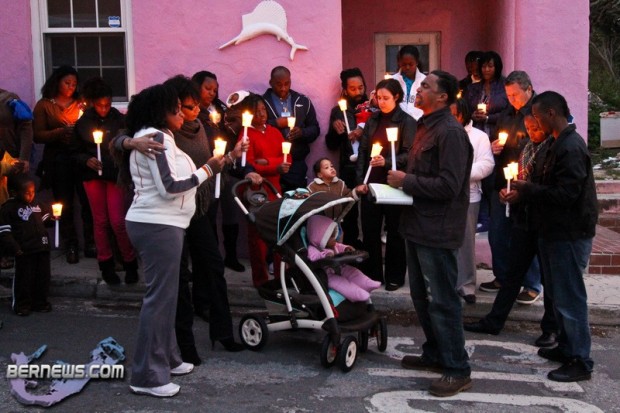 With candles being lit and relit throughout the evening due to the windy conditions, the event started with a powerful prayer led by community activist Scott Smith, who called for peace and prayed for justice to be served. Mr. Smith went on to ask those gathered to not only keep Mr. Ferguson's family in their prayers, but all families who have been afflicted by violent crime in Bermuda in recent months.
Following the prayer, Mr Ferguson's oldest sister spoke — saying the last time she saw her brother they had a disagreement, and then he "was gone." She said that doesn't sit well with her, and encouraged everyone to always love one another. She took the opportunity to tell her family gathered that she loved them, a sentiment they returned. To end the vigil, Mr. Smith led everyone in a rendition of the Civil Rights anthem "We Shall Overcome", followed by "Amazing Grace," before calling on the community to work together to stem the violence.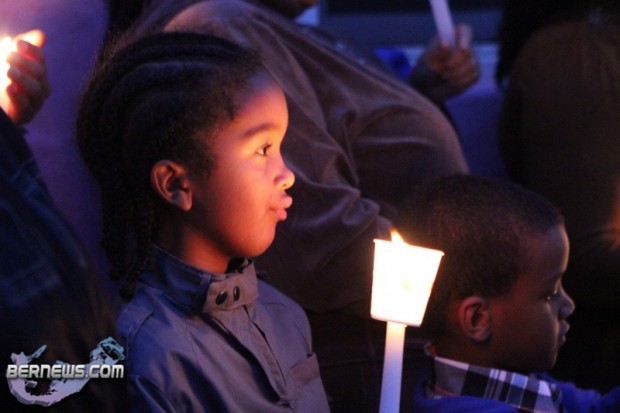 Mr. Ferguson, whom Police have confirmed was not a gang member, was doing construction work when he was murdered at approximately 2pm on February 4. As Mr. Smith said this evening, he was working to take care of his family when he lost his life. Mr Ferguson left behind many devasted friends and family, including a four-year-old daughter.
The Bermuda Police have made headway with the case, arresting five persons in connection. They are still appealing for the public's assistance to solve this tragic murder, and anyone who has any information is asked to contact the Serious Crimes Unit on 295-0011 or the independent confidential Crime Stoppers Bermuda hotline on 800-8477.
You can join a Facebook page dedicated to Mr. Ferguson's memory here.
Update: Mr Smith's full prayer 5 minute video added below.
Read More About