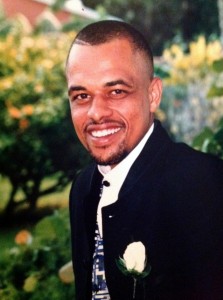 [Updated with video] The police held a press conference this morning [Aug 9], and said they are now "officially classifying" the disappearance of Rudy Smith as a murder.
Mr Smith has not been seen for a month, and his bike was located in the waters off North Shore last month.
A Pembroke man in his 20s was arrested in connection with this matter last month, however was released on bail.
Superintendent Antoine Daniels said: "Today the Bermuda Police Service is taking an unfamiliar position of officially classifying the disappearance of 41 year-old Pembroke man Mr. Rudy Lamar Smith as a murder.
"Mr. Smith was last seen alive about 7pm on Monday 9th July 2012, walking in the area of One-Way Deepdale in Pembroke parish. After not being seen or spoken to for a number of days, a missing persons report was made to police.
"Officers immediately commenced investigations in an effort to trace Mr. Smith's most recent movements with a view to locating him and establishing if he was in any harm or distress.
"Although the death of Rudy Smith has not been confirmed or his whereabouts known, based on certain information, intelligence gathering, the length of time Mr. Smith has been missing, the recovery of a motor cycle he was last seen riding being recovered from the waters off of North Shore in Pembroke Parish 3 weeks ago and the fact this is not his normal routine to avoid contact with family/friends for long periods this matter is being investigated as a murder.
"The BPS Serious Crime Unit whose remit is to investigate murders and attempt murders were assigned the task of conducting this investigation.
Superintendent Daniels continued: "To date they have completed a number of witness interviews, made an arrest, seized various exhibits, conducted searches at residences and other locations, spoken to a number of persons including close family members, made press/media appeals and of course recovered the motor cycle that Rudy Smith was last seen riding.
"Despite police efforts to date, Rudy Smith still remains missing which is a major concern for the BPS and Mr. Smith's family and friends.
"These actions are out of character for Mr. Smith and not his normal routine, as it is unusual for Rudy Smith not to contact or visit family and friends for long time-periods.
"Rudy Smith is described as a brown skinned male, slim build, 5'8" tall, close black hair, brown eyes and a goatee. Investigators are making an appeal to any persons that may have information about the last movements or where-a-bouts of Mr. Rudy Smith to contact them."
"Police also wish to speak to persons that may have any information whether they believe it to be important or not to contact Serious Crime Unit investigators on telephone number 295-0011 or the confidential Crime Stoppers Hotline at 1-800-8477 (Tips)."
Read More About