On the last day of Ascendant Group Limited's new summer STEM Camp for middle-school students, Minister of Education, Nalton Brangman, paid a visit to speak with students and see their accomplishments.
STEM Camp took place during the weeks of July 8 and July 15, enrolling 20 students each week, ages 12-15, with proven interest in and aptitude for science, technology, engineering and mathematics [STEM]. Students developed challenging robotics and web site projects.
They also visited BELCO's power plant and a Warwick house where PureNERGY Renewables has installed solar photovoltaic panels and a micro wind turbine. The aim of the camp was to help students gain STEM confidence and competence, while encouraging them to think about solving critical problems for Bermuda and the Earth.
Minister Brangman said, "I offer my congratulations to Ascendant Group for introducing an educational camp solely devoted to science, technology, engineering and mathematics. It is a wonderful opportunity to have a summer progamme like this in Bermuda for students who have shown an aptitude for sciences.
Minister Brangman and Ascendant CEO Walter Higgins meet with STEM Camp facilitator Anastasia Smith and camp participants.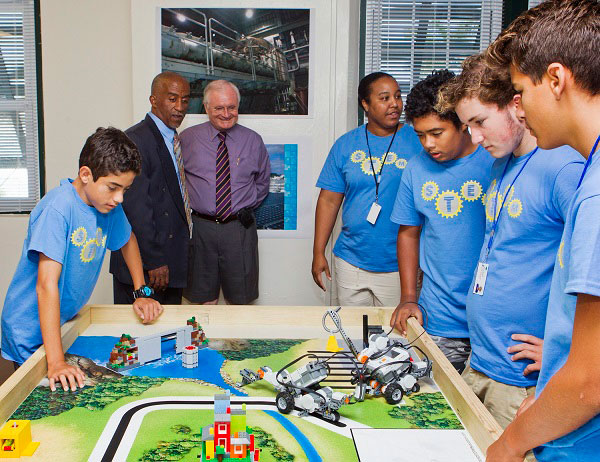 "I am delighted to learn that so many students have taken advantage of the opportunity and enrolled in the program. I hope in the coming months the students will continue to broaden and share their knowledge by developing a STEM Club through the Youth Library, as we seek to bring more STEM education to Bermuda's students.
"I hope the students will use this experience productively to help shape their lives and careers for their own benefit and the benefit of our Island."
Walter M. Higgins, Ascendant Group President & Chief Executive Officer said, "We are delighted with the response to the camp and hope that we have persuaded some of the young people who attended to pursue careers in engineering or careers that are based on expertise in the sciences and technology.
"Our operating companies need qualified people with STEM expertise, as do other Bermuda businesses. We are very pleased that the Ministry of Education and Bermuda Youth Library have shown support for STEM education, and we certainly support Government's efforts to increase STEM education, which is critical in an increasingly technological world."
STEM Camp was held at the Ascendant Group Training Centre on Serpentine Road in Pembroke. It was facilitated by Bermudian teacher Anastasia Smith with assistance from Ascendant Group engineers-in-training from operating companies BELCO and iEPC Limited, as well as summer students, who are working throughout Ascendant Group. Guidance and support for the program was provided by educators at the STEM Institute in Preston, Colorado.
Read More About
Category: All