HSBC Pro Soccer Clinic officially launched today [July 1] at BAA Field, Pembroke. Bermuda's own David Bascome and a host of overseas and local coaches have touched the lives of more than 4,500 participants over the last 21 years in a summer program that focuses not only on soccer skills, but self discipline and values young people can take with them off the field.
David Bascome, President of HSBC Pro Soccer Clinic welcomes female coach, Shannon Seipp, Former 1st Division player, James Madison University. She said, "I have such a passion for soccer and it is incredibly fulfilling to be able to give back to the soccer community by coaching and motivating youth.
"Soccer helped me to develop accountability and confidence which has carried over into all aspects of life, so it is great to be able to pass this along to the next generation while having a lot of fun!"
"HSBC Bermuda, a committed supporter of our community and has sponsored Pro Soccer clinics since its inception in 1992," Neville Grant, HSBC spokesperson for this year's Pro Soccer Clinic explains, "HSBC Bermuda is proud to support our young people through sport.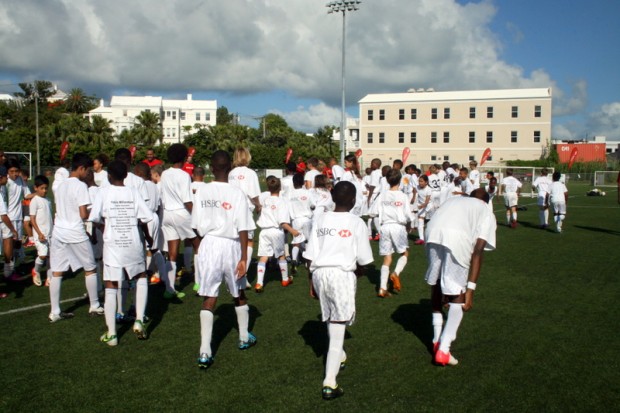 "HSBC's Pro Soccer Clinic offers our young people more than just an opportunity to upgrade their football skills, as it also encourages our young people to become excellent teammates both on the field and in our community.
"Teamwork, discipline and focus, when demonstrated through 'play`, create great life lessons that later translate into positive professional experiences."
This year, HSBC Pro Soccer Clinic offers one week programs for the Kiddy Kickers, Basic Group and Bridge to Success.
Read More About