The squash portion of the 2013 NatWest Island Games is underway, with Bermuda's players claiming two bronze medals. Both Micah Frankin and Laura Robinson [pictured below] won bronze medals in the individual squash event.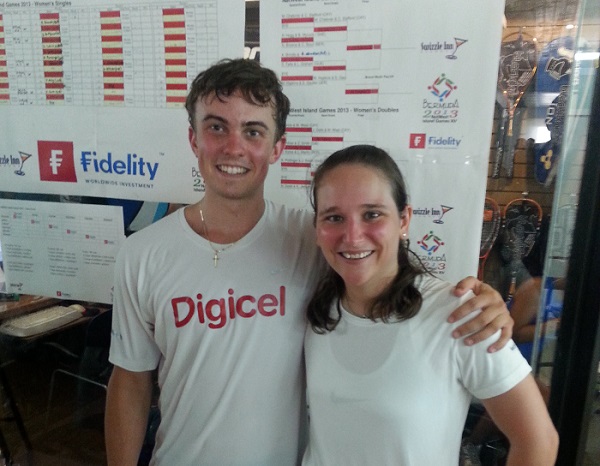 A husband and wife from the island of Jersey won the gold medals yesterday, becoming what is reported to be the first couple to take gold in the same event in Island Games history.
In a final that saw him pitted against a fellow countryman, Jersey's Nick Taylor beat Michael Hopkins in straight sets while his wife, Sarah Taylor, performed a similar feat against Joan Smith of Shetland Islands.
Medal Matches
Ladies Gold/Silver Match:
Sarah Taylor [JER] defeated Joan Smith [SHE] 13-11, 11-2, 11-1
Ladies Bronze Match:
Laura Robinson [BER] defeated Kerry Pottinger [SHE] 11-2, 11-6, 11-9
Men's Gold/Silver Match:
Nick Taylor [JER] defeated Michael Hopkins [JER] 11-7, 11-4, 11-4
Men's Bronze Match:
Micah Franklin [BER] defeated Anthony Brindle [GIB] 11-5, 11-7, 11-8
Final Results:
Womens Single Round 3
Katherine Jenson [GUE] defeated Janet Sairsingh [CAY] 11-9, 11-6, 11-2
Joan Smith [SHE] defeated Laura Robinson [BER] 6-11, 11-5, 11-6, 11-5
Rachel Barnes [BER] defeated Hannah Garrick [SHE] 11-3, 11-1, 11-2
Amy Stenner [GUE] defeated Gail Attias [GIB] 11-8, 10-12, 11-6, 11-9
Zoie Smith [GIB] defeated Janet May [GIB] 11-9, 6-11, 11-9, 11-6
Susie Lacey [BER] defeated Eilidh Bridgeman [CAY] 11-6, 9-11, 9-11, 12-10, 11-7
Sarah Taylor [JER] defeated Kerry Pottinger 11-5, 11-3, 11-6
Mens Single Round 4
Cameron Stafford [CAY] defeated Nick Kyme [BER] W/O
Harry Martel [GUE] defeated Raul Sink 11-3, 11-2, 11-3
Rob Hickling [JER] defeated Gabriel Rabees [CAY] 11-5, 11-1, 11-4
Mark Tewksbury [GIB] defeated Julian Jervis [CAY] 6-11, 11-7, 11-4, 11-9
Adam Bews [ORK] defeated Patrick Foster [BER] 10-12, 11-5, 11-6, 11-5
Omar Kandili [GUE] defeated Billy MyCock [SHE] 11-9, 11-3, 11-6
Ramsey Hogg [SHE] defeated Christian Navas [GIB] 5-11, 11-7, 11-9, 7-11, 5-11
Michael Hopkins [JER] defeated Anthony Brindle [GIB] 11-3, 11-1, 11-8
Nick Taylor [JER] defeated Micah Franklin[BER] 11-5, 11-2, 11-7
Mens Singles Final Play-Offs
Ramsey Hogg [SHE] defeated Billy Mycock [SHE] 11-3, 11-1, 11-0
Christian Navas [GIB] defeated Omar Kandili [GUE] 11-7, 12-10, 12-10
Rob Hickling [JER] defeated Mark Tewsbury [GIB] 4-11, 6-11, 11-7, 11-9, 11-9
Cameron Stafford [CAY] defeated Adam Bews [ORK] 11-7, 11-7, 9-11
Micah Franklin [BER] defeated Anthony Brindlr [GIB] 11-5, 11-7, 11-8
Nick Taylor[JER] defeated Michael Hopkins[JER] 11-7, 11-4, 11-4
Womens Singles Final Play-Offs
Eilidh Bridgeman [CAY] defeated Hannah Garrick [SHE] 11-9,11-5,11-4
Katherine Jensen [GUE] defeated Amy Stenner [GUE] 11-8, 11-8, 11-5
Laura Robinson [BER] defeated Kerry Pottinger [SHE] 11-2, 11-6, 11-9
Rachel Barnes [BER] defeated Susie Lacy [BER] 8-11, 11-3, 11-4, 17-15
Sarah Taylor [JER] defeated Joan Smith [SHE] 13-11, 11-2, 11-1

Read More About