SCARS [Saving Children And Revealing Secrets], Bermuda's first charity specifically aimed at tackling child sexual abuse, held two special "Darkness to Light Stewards of Children" sessions at Argus on Saturday [July 13] for various members of the Government, including the Attorney General's Chambers, the Chief Justice, Senior Crowne Counsel,  Magistrates from Family Court and MPs from both the OBA and PLP.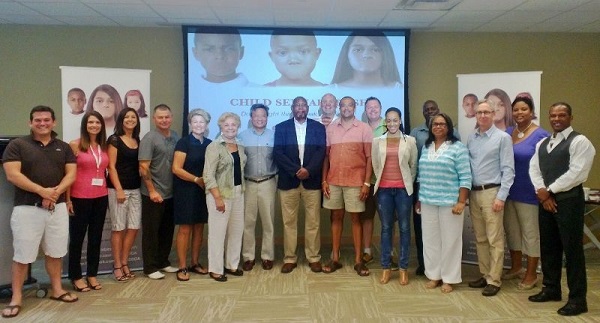 "Hosting this training for government officials, represents a huge step in protecting children in Bermuda and hopefully an opportunity to change and/or create legislation around the issue," said Debi Ray-Rivers, SCARS Founder & Executive Director — who recently received a Community Service Award.
The goal of the training programme was to increase awareness of the prevalence, consequences and circumstances of child sexual abuse, while building skills in how to address occurrences and promote the healing process for affected families. Using an evidence-based approach, the Stewards of Children training programme includes video segments of survivors sharing their stories along with experts like law enforcement, doctors, psychologists, lawyers and concerned individuals sharing their perspective.
"The 'Darkness to Light Stewards of Children' training provided invaluable insight into the issue of child sexual abuse in Bermuda," said Attorney General Mark Pettingill. "Understanding the devastation child sexual abuse can cause in the life of an innocent child, affected family and a community overall is something we don't always appreciate. Not only does the training provide the tools to recognise, prevent and react responsibly to child sexual abuse, but also SCARS provides access to resources that promote the healing process. We all need to become an advocate and voice for children and families affected by child sexual abuse."
Executive Director of SCARS, Jon Brunson, who facilitated the training said: "To have this prestigious group of people from draftsman of legislation to those who every day are involved with families affected by child sexual abuse on a judiciary level, shows the importance of the issue in Bermuda. We are confident that this will get us closer to mandatory training in Bermuda for anyone entrusted with the care of children, thus ultimately will provide more protection for children."
SCARS offers its main "Darkness to Light Stewards of Children" training programme on a monthly basis and has certified more than 500 individuals. The organisation's 30-minute introductory "Darkness to Light Prevent Now" presentation has been given to a wide range of organisations, such as Bermuda College, King Edward VII Memorial Hospital, Bermuda Bar Association, First Baptist Church, Department of Youth & Sports and Colonial Insurance as part of its awareness raising work. In addition, SCARS has taken its main awareness programme called SAFE [SCARS Arms Families through Education] to 19 schools in all age groups from preschool to high school.
The training delivered by SCARS is largely based on materials developed by Darkness To Light, an organisation based in Charleston, South Carolina, excluding the SAFE programme which was developed in-house by SCARS.
A new, more powerful, version of the Stewards of Children material will be launched in September and introduced into Bermuda by SCARS, which will incorporate updated statistics and greater cultural diversity. It features new survivor stories to capture the effect of child sexual abuse in its many forms. It also features tips from youth organisations providing detailed actions that other organisations can take to protect children. There is also more detailed advice for parents on talking to their children and content about what bystanders can do to intervene and better protect children.
Read More About
Category: All