Minister of Tourism Development and Transport Shawn Crockwell presented the Royal Caribbean International [RCI] Hospitality Awards for 2013 on board the Celebrity Ship MV Summit.
Joining Minister Crockwell were MV Summit Captain Theodoros Zakkas and Michael Ronan, Vice President, Government Relations – Caribbean, Latin America and Asia for Royal Caribbean.
Also in attendance were the scholarship interview committee which included Gary Phillips, Chairman and consultant to RCI, Graham Mawer, Bermuda Department of Tourism and Barbara O'Shaughnessy of the Bermuda College. Also on the interview committee but not in attendance was Kelli-Ann Smith of the Bermuda Hotel Association and Pandora Glassford, Director of the National Training Board.
Scholarship recipients with Captain Zakkas, Minister Crockwell and Michael Ronan: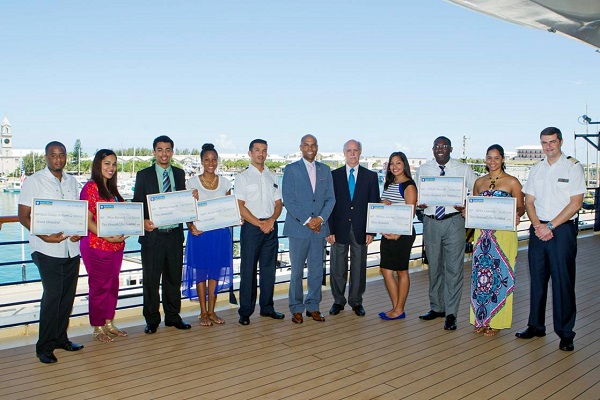 Minister Crockwell said: "The Government of Bermuda believes that the future of Tourism lies with our youth and the Department of Tourism takes its role very seriously in doing its part to develop our future leaders of the Tourism industry. Over the past several years we have showcased this commitment by pioneering several initiatives aimed at supporting members of our community who wish to embark on careers associated with the hospitality industry."
"To date, this programme has donated hundreds of thousands of dollars in scholarship funds to 70 young Bermudians to assist them in tourism related studies," said the Minister. "I am pleased to join with Royal Caribbean in awarding three deserving young Bermudians with Scholarships."
The Minister concluded by saying the Government is committed to helping young Bermudians achieve excellence in the hospitality industry. "This initiative celebrates that achievement and I want to extend a heartfelt thank you to Royal Caribbean Cruise Line International for their significant contribution and support that they continue to share."
2013 RCI Scholarship Award Recipients:
Nikhil Hassell: $12,500 – Culinary Arts & Food Service Management, Johnson & Wales University [US]
Ricai Walker-Williams: $7,000 – Food and Culinary Arts, University College Birmingham [UK]
Sajni Richardson: $5,000 – AS Baking & Pastry Arts, Johnson & Wales University, [US]
Ramsay Saggar: $5,000 – Hospitality Management-Hotel and Restaurant, Niagara College [CAD]
Tiffany Sanchez: $3,000 – Travel Tourism and Hospitality Management, Johnson & Wales University [US]
Sierra Symonds: $2,500 – Culinary Arts, Bermuda College
Priya Ratteray: $2,500 – Culinary Arts, Bermuda College
Read More About