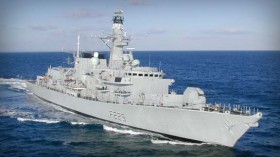 Government House advised today that the HMS Lancaster, a Type 23 frigate from the UK Royal Navy, will be visiting Bermuda from 7 June.
She will join RFA Wave Knight, which came to Bermuda in January, to form part of the North Atlantic Patrol Taskforce which will provide humanitarian aid and disaster relief support to the British Overseas Territories and other islands during the Caribbean hurricane season. This will be her first stop after leaving the UK.
During her brief visit this weekend, she will be berthed in Hamilton and members of the public will have the opportunity to see the upper deck of the HMS Lancaster on Saturday 8 June between 1.00 p.m. and 6.00 p.m.
The crew will meet the Governor and attend the Bermuda Regiment Change of Command parade. They will also undertake some joint training with elements of the Regiment and spend time with the Bermuda Police Service.
HMS Lancaster's Commanding Officer, Commander Steve Moorhouse, said, "I am particularly pleased that the island of Bermuda is the first port of call on our deployment.
"The relationship between Bermuda and the Royal Navy goes back hundreds of years and it is appropriate that as we head towards the Caribbean we return to an island that has long been a welcoming home to many naval personnel.
"After many months of preparation, the visit is a fantastic reward for my Ship's Company and we are looking forward to strengthening our relationship with Bermuda and supporting the islanders in any way possible."
In 2012 Lancaster was refitted and this will be her first deployment after the modifications made to the ship. She is named after the Duke of Lancaster, better known as Her Majesty the Queen.
Read More About