Earlier today [Nov 27], Minister of Public Safety Michael Dunkley was presented with the latest artistic creation by well-known local artist, Sharon Wilson.
Ms. Wilson has recently completed her book called, The Gold Collection, and through her artistic vision, she addresses the effects of gang related behavior on our communities and more importantly on Bermuda's young males.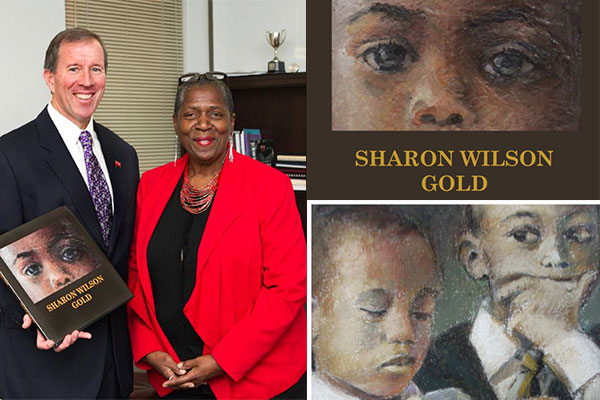 According to Ms. Wilson, The Gold Collection is a compilation of pastel and encaustic portraits of young black Bermudian schoolboys between the ages of five and 14. And Ms. Wilson challenges the readers of her new book to look within and examine themselves particularly as it relates to the responsibility they have as individuals in addressing and finding solutions to the gang issue.
In thanking Ms. Wilson for the book, Minister Dunkley said, "Through her artistic vision, Sharon has provided us with a unique contribution to this important social conversation. This book is a tremendously inspirational and poignant depiction and it is my genuine hope that the community will support Ms. Wilson's latest work."
Ms. Wilson has said of her new book, "Bermuda like many communities is now confronted with gang related behavior. What is happening here is happening in many communities. We have an incredible opportunity. Living on such a small island, there are no strangers here. There is no doubt in my mind that we must hold ourselves accountable.
"As an artist and an educator I am asking questions and searching for ways to become more effective as an artist. I wanted a way to change the kind of conversation we are having about violence. The key to the change is in our houses and in our ability to be truthful to ourselves. It is important to remember that there are no victims here. I invite you to look at the faces of our children and in their faces, see your cousins, grandchildren and neighbors. The new gangster is not a stranger, we know him."
There are limited copies of Ms. Wilson's book and they are available online only. To purchase a copy, individuals can visit here or call Ms. Wilson directly at 238-2583.
Read More About
Category: All, Entertainment