An enthusiastic Bermudian was escorted off the Cabinet Grounds by police today [Nov 8], after letting out cries of "hallelujah" coupled with fanatic clapping while the Governor was reading the Throne Speech.
The police approached the man, and he left peacefully as the police walked beside him. As the man was leaving the grounds, he could be heard telling the officer, "but they are saying some good things."
The man [face blocked for privacy reasons] is pictured below walking off the grounds with the police: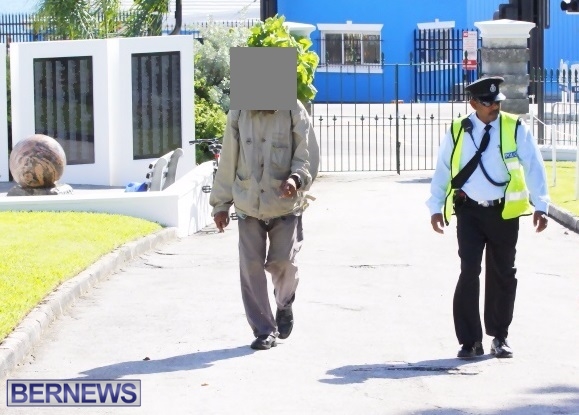 The Convening of Parliament saw Governor George Fergusson deliver the Throne Speech which outlines the Government's Legislative Agenda for the year ahead.
Some of the highlights include the major grocery stores introducing 10% discounted shopping on Wednesdays for one year with effect from 1 December 2013, and plans to amend the Liquor Licence Act 1974 to allow for the purchase of wine and spirits on Sundays, as well as require mandatory ID checks for bars and nightclubs.
You can view our live coverage of the Throne Speech here, and all our coverage of the Throne Speech here.
Read More About