The Remembrance Day Parade held today [Nov 11] saw crowds line Front Street to pay their respects to the Bermudians who served in the two World Wars of the 20th century and other conflicts, many of whom did not return home after making the ultimate sacrifice.
Between World War One [1914-1918] and World War Two [1939-1945], approximately 600 Bermudians served overseas, all of them volunteers.
There are no Bermudian WWI war veterans left alive today, however WWII veterans remain, and marched down Front Street receiving well earned applause from the gathered crowd. The veterans were lead by 88 year old Jack Lightbourn, who left Bermuda in 1944 as a 19-year-old to serve in the Royal Navy in Europe during WWII.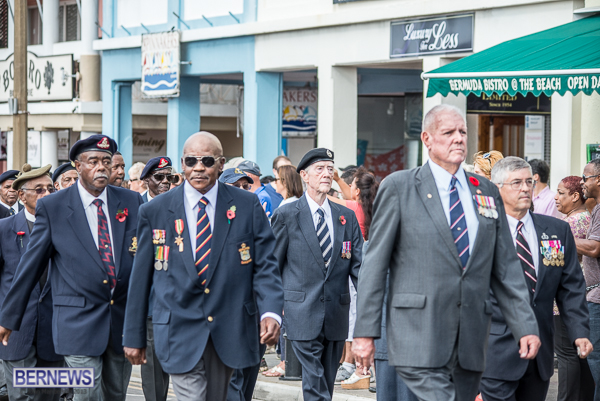 The solemn observance takes place at the Cenotaph on Front Street, with a cannon shot marking the start of the two minutes' silence at 11am, the time the armistice between the Allies and the Central Powers which ended WWI went into effect on November 11, 1918. After the silence, a lone Bermuda Regiment bugler sounded the Last Post while the flag was flown at half-mast.
Wreaths were laid by dignitaries including Governor George Fergusson, Premier Craig Cannonier, Opposition Leader Marc Bean, Hamilton Mayor Graeme Outerbridge, Police Commissioner Michael DeSilva, Defence Board Chairman Wendell Hollis, Bermuda War Veterans Association President Jack Lightbourn, Bermuda Militia Infantry's Betty Vincent, Bermuda Regiment CO Lt/Col Mike Foster-Brown, Chief Fire Officer Lloyd Burchall, and the Commander of the Bermuda Sea Cadet Corps
The slideshow below contains 200 photos of this morning's ceremony:
Read More About