As the end of the year nears, take a look back at our 20 most watched videos of 2013, which include footage of a super-yacht, reggae artists, airplanes, local sports, the tropical storm, a house explosion and more.
We posted hundreds of videos this year and according to our YouTube statistics our videos garnered approximately one million views in 2013, and were viewed for a total of 1,559,690 minutes, which equals almost three years of total viewing time.
The most watched video — by far — was footage of Russian billionaire Roman Abramovich's 500ft long super-yacht 'Eclipse', which has been viewed over 112,000 times so far this year.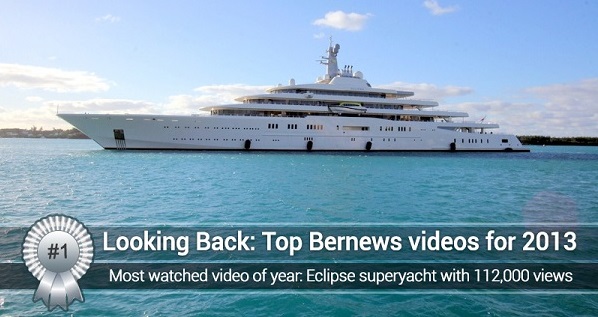 The second most popular was a clip of a Coast Guard helicopter, which was followed by footage showing an international gymnastics meet which was held in Bermuda.
The fourth most popular video was the Canadian family smoking outside the airport at 2am after the airline was diverted due to their behaviour on board. This video was also shown over many of the major Canadian television networks, with Bernews receiving multiple requests for copies of the footage.
In fifth place was a video of veteran reggae artist Shabba Ranks arriving in Bermuda, and rounding out the top six was security camera footage of the actual explosion at the Ariel Sands house.
You can watch the top 20 videos of the year below, and also take a look back even further and check out the top 20 videos of last year here.
Eclipse Super Yacht Arrives In Bermuda
Coast Guard Helicopter Take Off
Floor Routines At International Gymnastics Meet
Sunwing Flight 454 Diverts To Bermuda
Shabba Ranks Arrives In Bermuda
Security camera footage of the Ariel Sands house explosion
Luciano & Mikey General Visit CedarBridge
Alison Hinds & Shabba Ranks At Cup Match Salute
Beam Routines At International Gymnastics Meet
O'Flynn Family St Baldrick's Head Shaving In Bermuda
Motocross Racing New Years Day
Two England goals in the match against Bermuda
Tropical Storm Gabrielle Approaches Bermuda
Bermuda Regiment's 21 Gun Salute For Royal Baby
Nahki Wells Presentation
Miss Smiths Katherine Arnfield
Highlights Of International Gymnastics Meet
RAF Military Aircraft Depart Bermuda
Gombeys On 2013 New Years Day
RAF & USAF Military Aircraft Depart Bermuda
- Note: This list excludes videos of police statements following crimes and/or road accidents.
Read More About