On Saturday, November 16, 2013 the Bermuda Boys Brigade held their annual November Car Wash from 9 am – 2 pm at St. Paul's Church car park in Paget.
A spokesperson said, "Families were asked to donate their time to help them raise funds and once again, we have given these money to a charitable cause which helps children.
"This is a great way to have fun, get to know each other and to show the boys Christian charity at work. In 2013 our Boys Brigade group of 40+ boys, their families and their leaders raised $600 for charitable giving this past Christmas."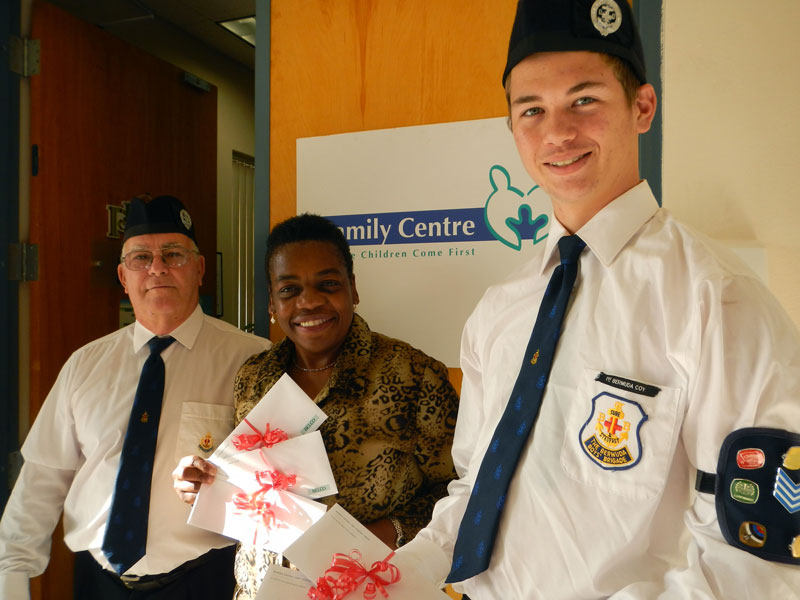 On behalf of the Bermuda Boys Brigade, Captain David Semos and Staff Sergeant Joshua Stephens presented Ms Martha Dismont, Director of the Family Centre with six $100 Gift Certificates for BELCO electricity which the Family Centre were then able to give out to six needy families.
The spokesperson continued, "Our next Car Wash will be at our Annual Valentine's Fair on Saturday, February 15, 2014 from 9 am – 4 pm at St. Paul's Church car park in Paget. Please support our youth!
"The purpose of the Boys' Brigade is to fulfill our Object and help boys in becoming young men anchored in the Christian Faith. The 1st Bermuda Company is an outreach arm of St. Paul's Church in Paget.
"The Boys' Brigade was started in Bermuda by Mr. Cecil Downs with the encouragement of Canon Peter Evans at St. Paul's Church on Middle Road and Valley Road in Paget. Mr. Downs was the Captain untill 1986 when there were 6 Companies in Bermuda.
"Today, there is only one Company with over 40 members presently, led by Mr. David Semos at St. Paul's Church under the Priest-in-Charge, The Revd Anthony D. Pettit. The Boys' Brigade meet on Fridays in the Christian Education Centre."
Read More About