The Bermuda Motorcycle Racing Club [BMRC] is getting set to kick off its 2014 season with a three round Endurance Race Championship, with one race each scheduled to take place in February, March, and April.
A spokesperson said, "We will be hosting one round per month from February through April, with championship prizes awarded at the end of the series. The details will mirror that of last year's Endurance Races with a two category entry, however the results will be tallied to determine the team champions at the end of the three rounds."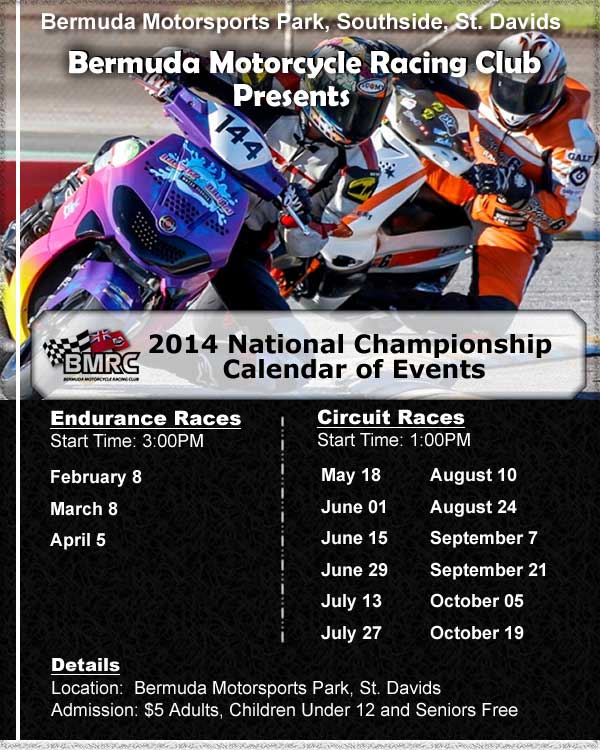 2014 Endurance Race Event Schedule
Saturday, February 8, 2014
Saturday, March 8, 2014
Saturday, April 5, 2014
The registration fee for each event is $100 per team, with team sizes ranging from 1-4 riders each. Two classes will be represented, including Super Mini [Under GP 125] and Superbike Bikes [GP125 and over].
The 2014 Circuit Races will commence in May and run through October.
The schedule for this year's championship is outlined below:
Sunday, May 18, 2014
Sunday, June 1, 2014
Sunday, June 15, 2014
Sunday, June 29, 2014
Sunday, July 13, 2014
Sunday, July 27, 2014
Sunday, August 10, 2014
Sunday, August 24, 2014
Sunday, September 7, 2014
Sunday, September 21, 2014
Sunday, October 5, 2014
Sunday, October 19, 2014
Read More About