[Updated with photos + video] Crowds of people have gathered at the Cathedral on Church Street this morning [Jan 11] to pay their final respects to Mrs Louise Jackson, who passed away last week at age 83.
Well known in political realm for her tireless work on behalf of seniors, Mrs Jackson's service to Bermuda extended back decades with her involvement in both education and the performing arts.
Just before her passing, Mrs Jackson was named to the Queen's 2014 New Years Honours List, awarded an OBE for her public service and service to seniors.
Gombeys form an Honour Guard outside the Cathedral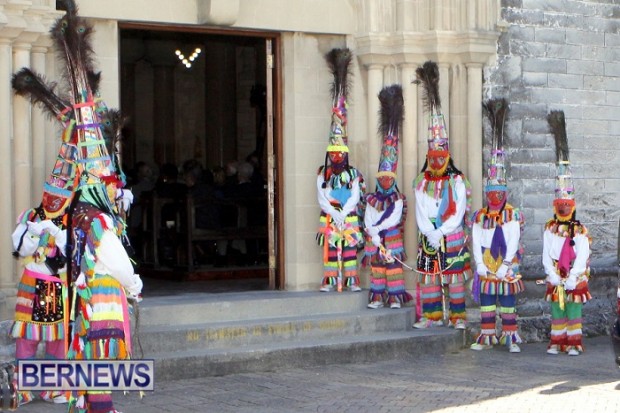 The founder of the Jackson School of Performing Arts, Mrs Jackson was also the author of The Bermuda Gombey: Bermuda's Unique Dance Heritage and was known for her knowledge and passion for the Gombeys. The Gombeys came out today to pay their respects to Mrs Jackson, forming an Honour Guard outside the Cathedral.
There are numerous dignitaries in attendance, including Premier Craig Cannonier, Governor George Ferguson, Acting PLP Leader Derrick Burgess, former Premier Paula Cox, former Premier Sir John Swan, former Opposition Leader John Barritt along with numerous other MPs, a host of notable faces from the dance community, and many others from all walks of life.
Video of the service, courtesy of CITV
The service is still underway at this time, with John Barritt set to deliver the eulogy, Ruth Thomas will deliver a tribute, Deborah Jackson will deliver the family tribute and the Bishop of Bermuda the Rt. Rev. Nicholas Dill will deliver Words of Comfort.
Update: Photos of the Gombeys outside the Church, click to enlarge:

Read More About