For Bermudians who aren't entirely familiar with English football  – but are Nahki Wells fan — we put together an overview of what non-football followers might want to know about Wells transfer and new team.
Following yesterday's record-breaking transfer, Huddersfield Town gained a slew of new fans located across the ocean, with the team saying that within hours of his transfer they had orders for Wells shirts from Bermuda and new Bermudian followers on social media.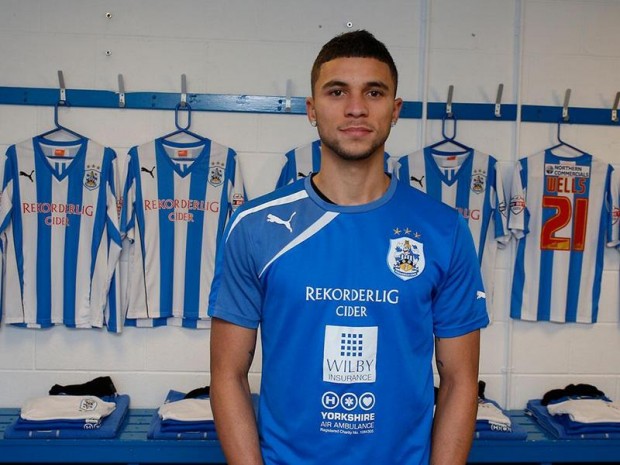 What's The Deal With This Record Breaking Transfer Fee?
Huddersfield didn't disclose the exact amount they paid, but confirmed it broke the old Club record, which stood at £1.2 million [$2 million], so we know the fee exceeded that. While there wasn't any official number released, some media reports from the UK suggest it may have been around £1.5m [$2.47m].
The money wasn't paid directly to Wells, it was paid by Huddersfield to Bradford City to "buy" Wells out of his contract with the Club.
This is not only a Huddersfield record, it's also a new record for a Bermudian footballer. This isn't just a big deal here in Bermuda, this is also quite impressive by international standards, with players who command fees this high called "million pound footballers."
Only the upper echelon of players are sold for millions, while very elite footballers are sold for tens of millions.
How Long Is The Contract?
Huddersfield signed Wells to a 4½ year contract – up until June 2018 when Wells will be exactly 28 years old, as his birthday is on June 1st. It does not mean he is guaranteed to stay there for the entire time as Huddersfield, like Bradford, has the option to "sell" him to another team during the time he is under contract.
What League Is This New Team In? Did Wells Move Up?
Yes, he moved up. Huddersfield is in the Championship League, which is the 2nd highest under the very top English League, which is called Premier and where the 'super famous' teams like Manchester United are.
This is a move up for Wells, as Bradford is in League One, which is the 3rd highest League.  It's the second move up for Wells, as when he started with Bradford they were in League Two, which is the 4th highest.
Teams move up and down depending on how well they do. At the end of the season, the very top teams in a League get "promoted" up to the higher League, while teams at the very bottom get "relegated" down.
There are 24 teams in the Championship League, and Huddersfield are presently ranked #13.
What Teams Will He Play Against In This New League?
The other teams in the Championship League are: Queen's Park Rangers/QPR, Leeds United, Blackburn Rovers, Doncaster Rovers, Blackpool, Middlesbrough, Bolton Wanderers, Nottingham Forest, Brighton & Hove Albion, Birmingham City, Charlton Athletic, Barnsley, Millwall, Ipswich Town, Watford, Reading, Wigan Athletic, AFC Bournemouth, Sheffield Wednesday, Yeovil Town, Burnley, Derby County and Leicester City.
Can Wells Get To The Very Top League?
There is no way to say for sure. Some football pundits say Wells has tons of potential and he is on record as saying he would like to eventually play in the Premier League.  He's 23 years old, so has years of playing time left. To move up to Premier League, either Huddersfield has to do really well and get promoted, or Wells has to be transferred again in the future to a Premier League team.
Bermuda has already had footballers play in the very top English League, with Shaun Goater, Kyle Lightbourne and Clyde Best having accomplished this. This isn't to say Wells has to move again, he has already achieved a lot as a professional footballer, and playing in the Championship League is prestigious.
Where Is Huddersfield?
Huddersfield is in West Yorkshire, England. It's about 190 miles north of London, and only about 10 miles away from Bradford City – Wells old team. Click here to see a map showing where Huddersfield is.
When Will He Start Playing For Huddersfield?
We have to wait and see, but he might start playing today [Jan 11], as Huddersfield is set to take on Millwall. Huddersfield posted a video [below] of Wells, with the caption saying he was arriving for what "could be his first appearance for the Club." [Update: He not only started playing today,but he scored in his debut!]
Are These Games On TV? 
Most television coverage here focuses on the Premier League.
Do We Have Other Bermudians Playing In The Professional Leagues?
Yes we do!  Bermuda's Jonte Smith is signed to Crawley Town [which is in the English League I], while Bermudian Reggie Lambe plays professionally in Canada for Toronto FC which is in the North American MLS League. We have also had many other Bermudians play professional football in the past.
Read More About