The producers of the Broadway hit "Spider-Man: Turn Off the Dark," starring Bermudian actress Rebecca Faulkenberry, have pulled the plug on the show's status in New York City, with plans to move it to Las Vegas later in 2014.
The show will officially end its Broadway run today [Jan 4].
Costing a massive $75 million to produce, the play ranks as the most expensive Broadway show ever, but that record required it to make $1.2 million per week just to break even; it last reached that milestone in August 2013, leading to discounted tickets.
The play is headlined by many great performers, including Ms. Faulkenberry, who plays the role of Mary Jane Watson.
Ms. Faulkenberry, a former Bermuda High School student and veteran of many Bermuda Musical & Dramatic Society and Bermuda Gilbert & Sullivan Society productions, made her first Broadway appearance in 2011 in the 1980s-era musical "Rock Of Ages."
Ms Faulkenberry takes a bow with "Spider-Man" cast mates T.V. Carpio, Reeve Carney, and Patrick Page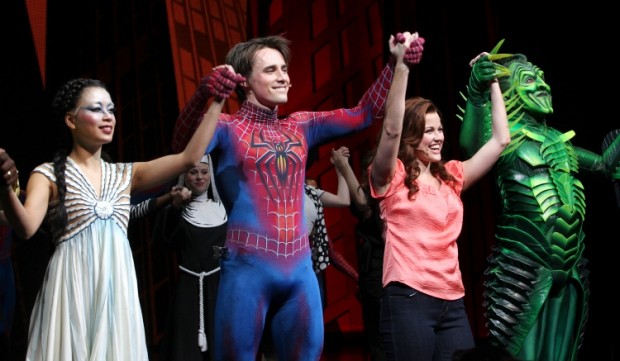 The musical is inspired by the Marvel Comics character co-created by writer/editor Stan Lee and artist Steve Ditko.
"Spider-Man: Turn Off The Dark" follows the story of teenager Peter Parker, whose unremarkable life is turned upside-down when he's bitten by a genetically altered spider and must learn that with great power comes great responsibility.
The musical, featuring songs by U2′s Bono and The Edge, has been seen by approximately two million fans, and will have played 1,268 performances by the time it takes its final bow at the Foxwoods Theatre.
The Smithsonian Institution is inducting one of the hero's first costumes into its permanent collection at the National Museum of American History in Washington.
The red and blue costume worn by actor Reeve Carney, who plays Spider-Man in the production, will join a collection of iconic Americana that boasts items such as the ruby slippers from "The Wizard of Oz," and a Kermit the Frog puppet.
"The Smithsonian is the gatekeeper when it comes to the American popular culture canon, so this feels like a kind of coronation for all of us," said Michael Cohl, a lead producer.
Read More About
Category: All, Entertainment