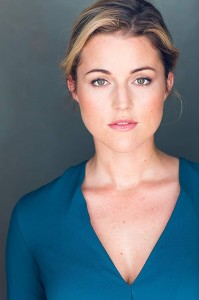 Bermudian actress and singer Rebecca Faulkenberry is heading back to Broadway, but this time in an epic new crime film rather than a musical theatre stage show.
Ms Faulkenberry, who has appeared in the Broadway productions of Rock of Ages, Spider-Man: Turn Off The Dark and Groundhog Day is featured in The Irishman, the new film from director Martin Scorsese which critics have hailed as "a mob movie masterpiece." …
Although produced for subscription TV service Netflix, the three-and-a-half hour drama starring Al Pacino, Robert De Niro and Joe Pesci is receiving a limited theatrical release — including at New York's historic Belasco Theatre, long a venue for Broadway drama and musicals.
The November 1-December 1 engagement will mark the first time a film has screened at the Belasco in its 112-year history.
Mr. Scorsese said the unusual choice of showcase for The Irishman was intended to remind New Yorkers of the moviegoing experience at the city's ornate old picture palaces, many of which have now fallen to the wrecker's ball.
"We've lost so many wonderful theaters in New York City in recent years " said the preservation minded Mr. Scorsese in a statement released on Monday [Oct 7], adding:."The opportunity to recreate that singular experience at the historic Belasco Theatre is incredibly exciting."
Trailer for the upcoming organised crime drama The Irishman
The film chronicles one of the greatest unsolved mysteries in modern American history, the 1975 disappearance of legendary union boss Jimmy Hoffa [played by Al Pacino] and according to the official synopsis "offers a monumental journey through the hidden corridors of organized crime: its inner workings, rivalries and connections to mainstream politics."
Premiering at the New York Film Festival last month, reviewers have lauded the organised crime drama which premieres on Netflix on November 27.
Ms Faulkenberry appears in the film as Jimmy Hoffa's daughter, Barbara.
When she read that The Irishman had been booked into the Belasco, Ms Faulkenberry posted on social media: "So does this mean I've been in 4 Broadway shows not 3??? Very cool!" and linked to an online report announcing the news.

Read More About
Category: All, Entertainment, Films/Movies, News