Building on the success of the Speed Networking events that the Bermuda Foundation For Insurance Studies [BFIS] organizes for undergraduate students during Christmas and summer vacations, BFIS will be running 3 lunchtime sessions later this month for high-school seniors interested in careers in the insurance sector.
Cathy Lapsley, BFIS Executive Director, said, "At our Christmas networking event we included six high school seniors who had been in contact with us following our 'Careers In Insurance' presentations last November. Based on their feedback – 'Amazing experience! I have learnt so much in such a short time!'– we decided we should run 3 events specifically for high school seniors."
Berkeley senior Faiz Shakir at BFIS December speed networking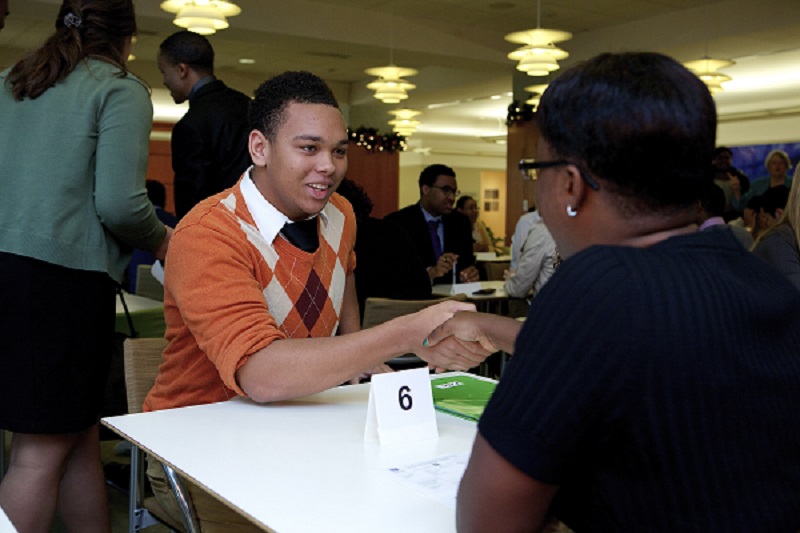 A spokesperson said, "BFIS has reached out to the high schools and they will be sending students to one of three events during the week of February 24th. The first is for students interested in studying actuarial science and math, the second for accounting and finance, and the third for students who are generally interested in the insurance sector as a potential career.
"How does BFIS Speed Networking work? At the start each student sits down opposite someone who works for an insurance or accounting company in Bermuda. When the signal is given each pair spends 5 minutes finding out about each other,then the bell rings and the student moves to the next chair to start a conversation with another professional.
"After approximately eight interviews everyone breaks for a sandwich lunch and, as happened at Christmas, they all kept talking and making introductions and discussing colleges, courses and careers for another hour!"
BFIS Speed Networking event held on December 30, 2013

James Botelho, Chairman of the BFIS Mentor Network Committee and a BFIS alumn, said, "It is a 'pain free' way to bring students and professionals together to help the students learn more about the industry and make those all-important industry connections as well as improving their networking skills.
"We find that the professionals, who so generously give their time to make these events possible, enjoy the experience as much as the students as they get to make connections with the next generation."
The BFIS Mentor Networking Programme volunteers are drawn from all areas and levels of Bermuda's insurance and accounting sectors and include BFIS alumni and insurance-focused organizations: CPCU [Chartered Property Casualty Underwriter] Bermuda Chapter, Bermuda Under 40s and CABER [Casualty Actuaries of Bermuda].
BFIS Speed Networking June 2013
Read More About