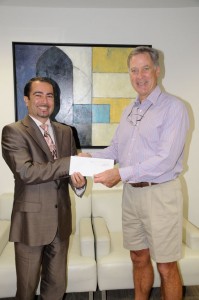 Capital G Bank presented a cheque for more than $11,000 to Meals On Wheels, courtesy of the bank's seventh annual Holiday Giving Back Programme.
Since the inception of the annual Holiday Giving Back Programme in 2007, Capital G Bank has committed to matching community donations to the fund each year.
This year's presentation included donations from the community, Capital G Bank employees and funds raised during the Gibbons Company Charity Shopping Day and Burrows Lightbourn Charity Shopping Fridays, which totaled more than $6,716.51.
The Capital G corporate matching funds brought the total donated to $11,716.51.
"Each year, we are reminded of the generosity of Bermuda's residents in their support of our Holiday Giving Back fundraising drive," said Capital G Bank Limited Co-Chief Executive Officer Ian Truran.
"Despite the challenging times, they donated generously again this year, remembering others who may be elderly or housebound and rely on the assistance of Meals On Wheels for a hot and nutritious lunchtime meal."
In addition to financial support, Capital G Bank also promotes a positive "giving back" relationship among its staff and the company's charitable partners. This special relationship has evolved into community involvement projects which has fostered an annual meal preparation and delivery by Capital G Bank employees.
"We encourage our staff to get involved and volunteer for the fundraising projects we undertake for a charity," Mr. Truran said. "This helps them to get to know and appreciate the charity we're supporting, and also gives them a chance to enjoy themselves while they help to raise as much money as possible in support of that charity's work in the community."
With this donation, Capital G, its clients, employees, and other charitable partners are able to ensure delivery of more than 1,100 meals.
Capital G's Holiday Giving Back Programme is just one segment of the company's ongoing annual charitable giving programme. Through donations, sponsorships, and employee volunteer and fundraising initiatives, the bank supports the endeavours of charitable groups that help to improve the lives of people of all ages in Bermuda and strengthen our community.
Read More About