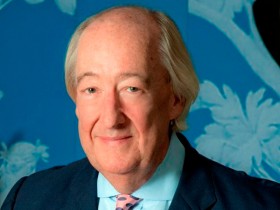 [Written by Talbot Wilson and Bonnie L. Cook, Philadelphia Inquirer staff writer]
Piers Wedgwood, a British lord and fifth-generation great-grandson of Josiah Wedgwood, creator of the distinctive blue and white pottery that embellishes tea tables and china collections, died Wednesday, Jan. 29, of cardiac failure at the Hospital of the University of Pennsylvania.
Lord Wedgwood, who was an avid sportsman, donated the Wedgwood Heritage Trophy to the Royal Bermuda Yacht Club in 1990 to be presented first at the 1990 King Edward VII Gold Cup competition to the sailor who best represents the traditional values and history of sailing.
The award, a classic blue and white Wedgwood piece, is on display along with the King Edward VII Gold Cup in the Rotunda of the Yacht Club. Lord Wedgwood often came to Bermuda to present the trophy in person and enjoy the racing at the Gold Cup.
Past Commodore Brian Billings, Chairman of the Argo Group Gold Cup said, " We will miss Lord Wedgwood's charming personality, his wit and his continuous support for the Argo Group Gold Cup. We look forward to continuing to present the Wedgwood Heritage Trophy in memory of the man and the family that donated it to honor those who have stood for the traditional values of sailing."
The first recipient of the Wedgwood Heritage Trophy was Jorg Diesch of Germany and latest award was presented at the 2013 Argo Group Gold Cup to Iain Percy OBE for his tireless work with the BART Foundation to benefit youth sailors in memory of Andrew 'Bart' Simpson who was killed during practice for the 2013 America's Cup.
Bermuda's B. W. 'Jordy' Walker was honored with the award in 2006 in recognition of the vital role he played in the renaissance of the modern Gold Cup. Jordy had provided the initial underwriting funding and piloted the changes into the modern professional international Gold Cup match racing format in 1989. Presenting the Heritage Trophy to him was an important recognition of his key contribution to the event.
The 'keeper' award is another Wedgwood innovation. Lord Wedgwood's great grandfather Josiah created the rich ebony stoneware, Black Basalt, and the elegant classic engraved Acanthus Black Basalt bowl is a treasured keepsake for the winner if the award.
Lord Wedgwood did not view his peerage as a mere title; instead, he was a working member of the English House of Lords with more than 25 years of service on the Defense and Heritage Parliamentary Groups. He left the House of Lords in 2001.
Lord Wedgwood helped raise money for charity. A pet project was the Lord Wedgwood Charity, which generates funds to supply high school sports programs in Birmingham with defibrillators to use when athletes experience cardiac arrest. He proposed the project in 2000 after doctors saved his life following a heart attack on a golf course in Alabama.
- Photo by Joe Schildhorn
Read More About