The Salvation Army received an early Christmas gift this year when Capital G Bank donated $20,000 to the charity to assist its festive season work with Bermuda families hit hard by the recession.
Ian Truran, President & CEO of Capital G Bank Ltd & Capital G Trust Ltd. said: "Capital G's donation to the Salvation Army is keeping with the company's 2011 'giving back' mandate to support charities that focus on education, the youth and families."
Photo below: James Gibbons, Chairman, Capital G Bank Limited, left, and Ian Truran, President & CEO, Capital G Bank Limited, right, donate a cheque for $20,000 to The Salvation Army's Divisional Commander, Major Shawn Critch: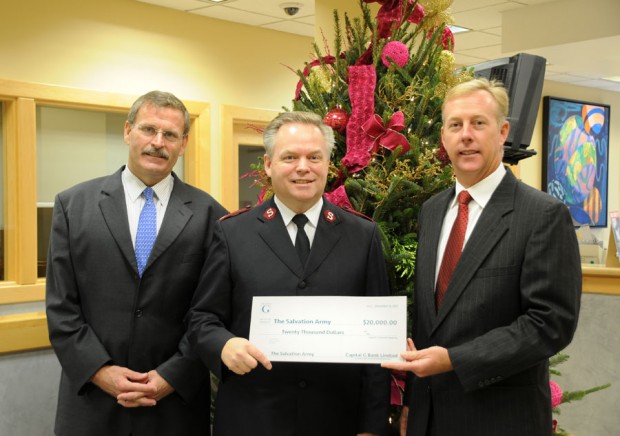 Capital G has supported The Salvation Army for more than five years through financial and in-kind donations, but this larger donation is very special this year.
Mr. Truran said: "Bermuda is experiencing hard times. Real unemployment is being felt across a broad section of people and they are experiencing lower wages and reduced working hours. This affects some household's ability to balance their usual expenses, which includes purchasing groceries.
"In celebration of Capital G's 10-year anniversary in October, we donated fifty $500 Lindo's grocery vouchers. The Salvation Army was another vehicle through which Capital G felt it necessary to assist a group who has an immediate connection to the hardship of these economic realities."
Major Shawn Critch, Divisional Commander of The Salvation Army, said he was grateful to Capital G Bank for demonstrating their support and contributing to their rising fundraising target.
The Salvation Army is aiming to meet its highest-ever objective of $1 million in fund raising. In Bermuda, The Salvation Army provides a daily soup run in Hamilton for the homeless via their mobile van service and operates the Harbour Light facility on King Street as well as the North Street Shelter.
Read More About