More than 130 cyclists started the Winners Edge road race this morning [Apr 6] on a tough course which started at Prospect and headed east on Middle Road and then back along North Shore Road, Palmetto Road, and Frog Lane. The hilly route took its toll on riders in all categories and created opportunities for groups to distance themselves from the rest of the competitors.
A spokesperson said, "Madison Digicel teammates Adam Harbutt and Dominique Mayho finished 1-2 ahead of Shannon Lawrence [Team Tokio] in the Adult A category. Harbutt created the opportunity half way through the 80 kilometer race when he charged up the hill at Palmetto Road.
"By the time he reached the finish line at Prospect, he had been joined by Lawrence and Mayho. As the three worked to lengthen their advantage, Lawrence lost contact with the leaders but was able to hold off the chasing group to finish third."
Shannon Lawrence, Adam Harbutt, and Dominique Mayho atop the Adult A podium: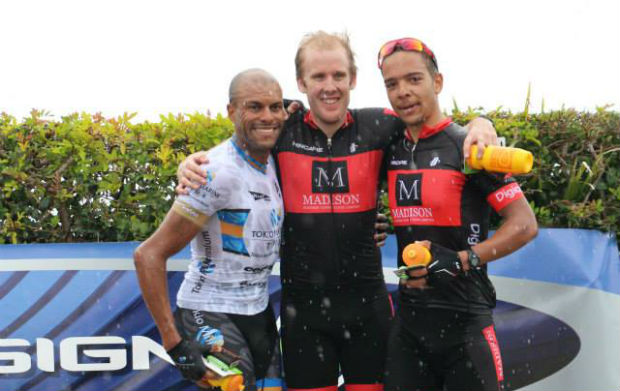 "In the Adult B race it was teenagers Christian Oatley and Tyler Smith who escaped on the rise of Middle Road by the squash club along with Seamus Fearon and Adam Hopkin [both of Team Tokio] on their fifth of eight laps. The foursome quickly stretched their lead but began to falter on the final lap.
"Smith was riding solo when the pack caught him before Flatts and then the three leaders were in sight of the chasers. Oatley was the last to surrender to the chase and was caught with less than 200 meters to go. Fearon recovered enough to take the victory ahead of Mark Brown and Darren Dowling [Social Cycles]. Team Tokio took seven of the top 10 places in the race having started 10 of the 25 in the category.
"Adult C was won by Dirk Hasselkiss with his Tokio teammate Peter Crayford in second and Charles Swart [Fast Forward Bicycle Works] in third. The Women category saw Laurie Orchard [FFBW] taking the checkered flag ahead of Penelope Butterfield [Winners Edge] and Wenda Roberts [FFBW].
"Somersfield student Robin Horsfield scored the victory in Junior A with Alex Pilgrim [FFBW] and RaJul Matthie-Shakir [SC] in third. Malil Joell, Nahje Smith [both of SC] and Nicholas Pilgrim [FFBW] took the honors in Junior B and Alexander Southern [FFBW], while Ross Cooper and Adrian McPhee were the top finishers in Junior C."
Read More About