As part of their application for planning permission for the Pink Beach Club redevelopment, the developers submitted an Environmental Impact Statement [EIS] outlining the plans as well as any impact on the environment along with mitigating steps.
The beach-front Tucker's Town cottage colony was recently sold to Sardis Developments, and the proposed redevelopment is set to comprise a 34 room hotel with 2 restaurants, a spa, 2 pools, rooftop tennis court, residential units, a beach club and more
The EIS said, "Following demolition of almost all existing buildings on the entire site the western lot will be dedicated to a 34 suite five star boutique hotel, with a high quality gourmet restaurant and beach grill, spa and fitness facilities, beach club, fresh and saltwater pools and access to the western beach and tennis courts.
"In addition 6 luxury residential condominium units will be built which will offer a form of low density residential living that provides access to all hotel services and amenities."
The EIS said, "The waterfront location is susceptible to inundation and storm damage and some of the existing building were damaged in Hurricane Fabian.
"The main hotel buildings in the proposed development are setback much further in accordance with recommendations in the Coastal Protection Guidelines."
Waves crash at Pink Beach during the build up to Hurricane Igor in 2010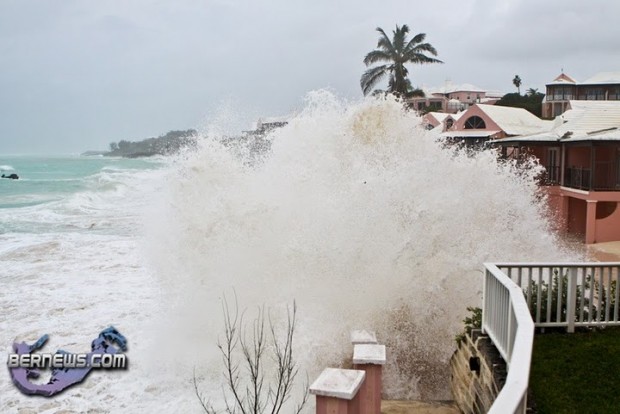 As far as treatment of sewage — a topic that has been in the headlines recently following the U.S. Consulate's advisory — the EIS said, "The proposed development will incorporate a new sewage treatment and disposal system.
"The system will collect sewage from the development on the western lot and provide secondary treatment with disposal to a borehole. The system will meet Department of Environmental Protection standards and will be an improvement on the previous disposal methods."
The EIS said the cost of construction is estimated to be $44 million for the hotel and condominiums and $7.5 million for the residence and guest accommodation. It also noted that the employment opportunities could be 80 – 100 jobs during the construction phase, with 56 jobs created when the hotel opens.
Design details have not been finalised yet, but the EIS said they the "architecture is intended to be Bermudian in character."
The full 99-page Pink Beach Environmental Impact Statement is below [PDF here]
Read More About
Category: All, Environment, News