The Loren has been named one of the "world's best new hotels" by private jet lifestyle magazine Elite Traveler, who called it a "striking modern boutique property" with "gorgeous ocean views."
The story said, "The newest hotel in Bermuda—the country's first new-build hotel in 45 years, in fact—is a striking modern boutique property located on the site of the old Pink Beach Club.
"Past guests of the club will hardly recognize the area, except for its namesake beach and dramatic rocky bluffs. Gone is the charming English elegance, replaced with a sleek contemporary space where expansive windows flood the place with light and showcase its proximity to Bermuda's famous turquoise water.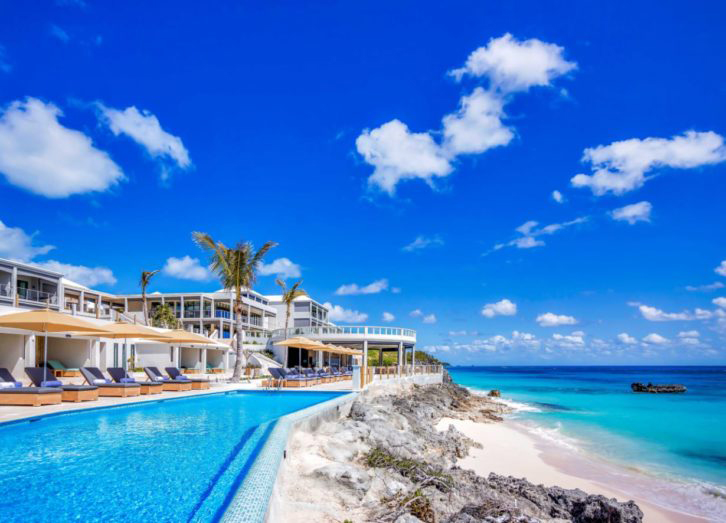 "A floating glass spiral staircase leads from the lobby to the bar and Marée, a restaurant offering a fabulous tasting menu that is best enjoyed alfresco on the patio. Don't miss chef Tim Sullivan's interpretation of the island's fish chowder. The bar harks back to old Bermuda with dark wood, a clubby environment and vintage photographs adorning the wall.
"The hotel boasts a significant modern art collection, much of which came from owner Stephen King's personal trove or was commissioned by King for the hotel. The Loren is built into a cliff, so every suite has gorgeous ocean views from its own private terrace, just outside floor-to-ceiling windows. If traveling with a group, book The Residence, a gracious two-story villa with three bedrooms, a plunge pool, pool deck, grill area and chef's kitchen.
"Locally grown food can be difficult to come by on the small, densely populated island. The Loren's restaurants score their ultra-fresh ingredients from Wadson's Farm, in Southampton, Bermuda, and this fall the hotel is hosting a series of dinners at the farm, enabling you to taste the bounty right where it is harvested."

Read More About