Yesterday the Premier & Minister of National Security Michael Dunkley joined the Minister of Home Affairs Michael Fahy and Senator Jeff Baron on a tour of the new hotel development, 'The Loren', on the former Pink Beach Club site to assess progress being made at the site, which is being developed by Sardis Developments Ltd.
The Premier and Minister were accompanied by developer and owner Stephen King.
"I was extremely encouraged this week to see the progress being made at the former Pink Beach site," said Premier Dunkley today. "We are delighted at Mr. King's unwavering commitment to Bermuda.
"Mr. King had the foresight to invest in Bermuda, using local expertise throughout the project and I look forward to seeing the completion of this first class addition to our tourism product in January 2017."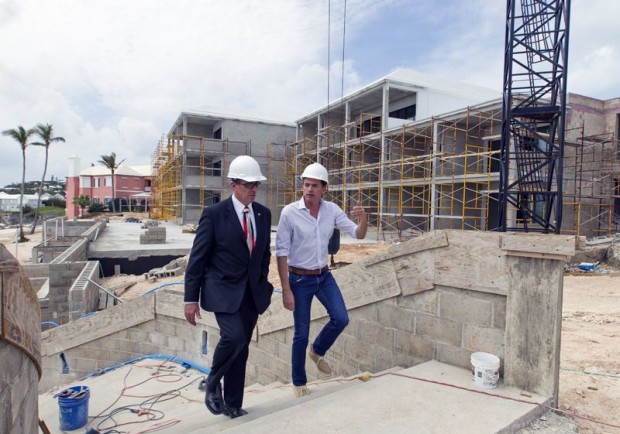 Meanwhile, Minister Fahy, who has responsibility for the Department of Planning and serves as a member of the Economic Development Committee [EDC] said, "The redevelopment of the site is an exciting event for Bermuda which has generated employment opportunities for Bermudians and will continue to do so once the hotel is up and running.
"As the Premier has stated, it is extremely exciting to see the progress being made at the site. Construction on the main hotel buildings of The Loren is now complete and the doors and windows have been installed.
"We could also see that significant progress has been made on the beach club with work on the cabanas and pool well underway. Additionally, the first condo is now fully finished and furnished, displaying the contemporary, clean design concept that will be continued throughout the hotel.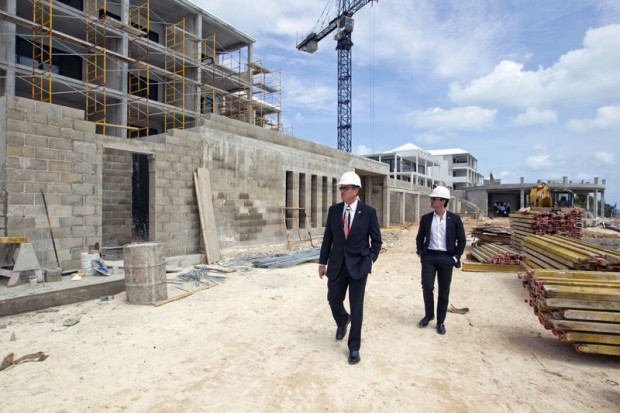 "We will continue to work with those entities who are committed to, and supportive of Bermuda and I wish to thank Sardis Development Ltd. and Mr. King in particular for their continued dedication to this project.
"I also wish to thank the Department of Planning for their hard work on this development to ensure that what needs to be done gets done as quickly as possible according to law and legislation."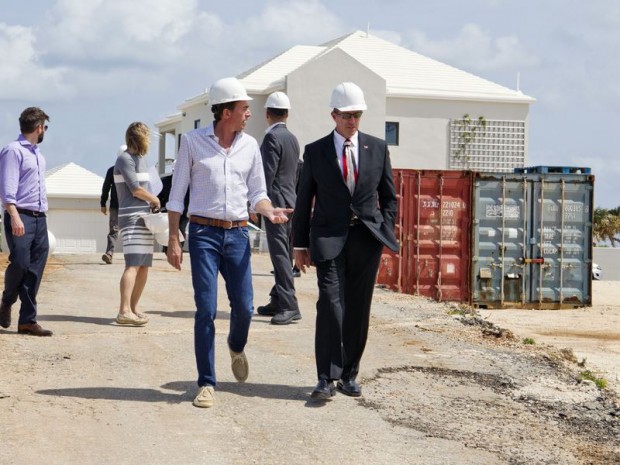 Mr. King commented, "We are encouraged by our progress at the site and are on track for a January 2017 opening. We hope to be operating at full capacity by the start of the America's Cup. We would like to thank the Bermuda Government for their continued support and guidance.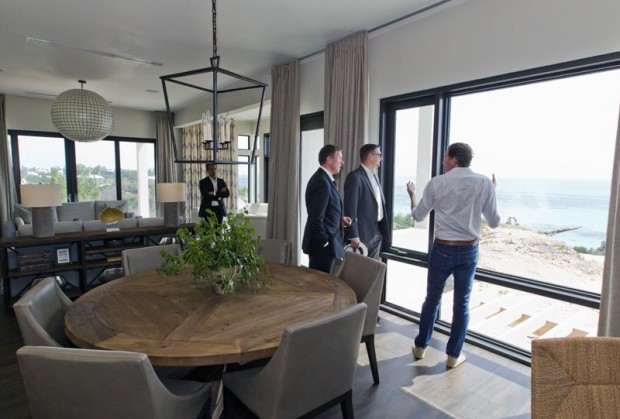 "It's hard to imagine that only two years ago we had just bought this property; and when you look at what has occurred here in that time on the site it really is a tremendous achievement.
"What gives us confidence is that we are at the stage where we are ready for the finishing touches to go in – the tiling will start soon and interior painting has already begun and the furniture has been ordered.
"The one thing I am most looking forward to is the landscaping – putting the soil down. We have tried to preserve the endemic plants on the site as much as possible and maintain the natural coastline. The hotel is, aesthetically, quite a non-invasive structure as the 'back of house' is all underground."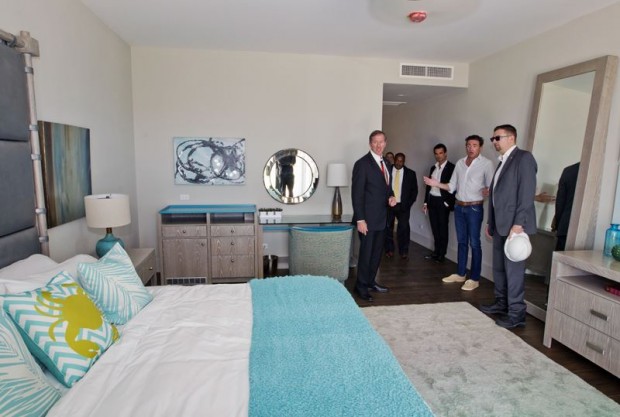 Junior Minister and Area MP Sylvan Richards said, "The opening of The Loren in January 2017 will be such a positive event for the area that will stimulate the local economy and provide jobs for area residents who will now have a first class hotel development and restaurant in their backyard."
Read More About