[Updated with photos] A political rivalry took to the ring today [Apr 18] as a Progressive Labour Party MP and One Bermuda Alliance Minister donned sumo wrestling suits and competed for a good cause.
The Minister of Community, Culture & Sports Wayne Scott matched up against Opposition MP Lawrence Scott at the PHC Community Fun Day in Warwick.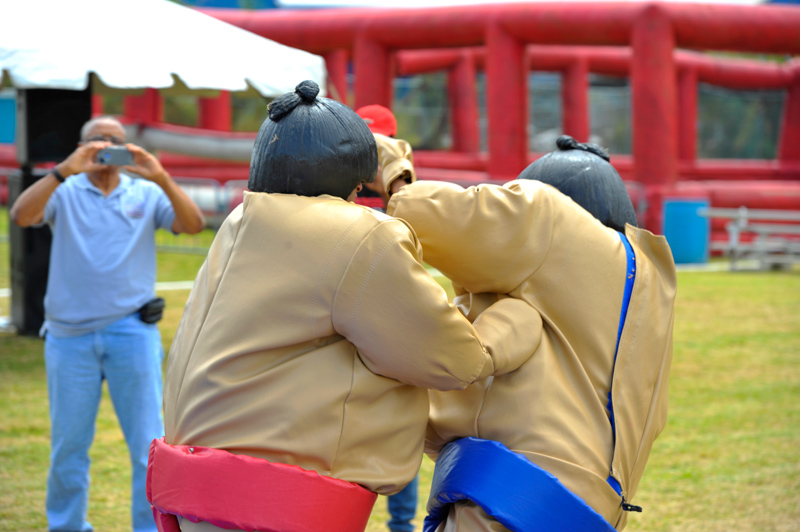 Both MPs represent Warwick, with Lawrence Scott serving as the MP for Warwick South East, while Minister Scott represents Warwick North Central. They both agreed to participate in the "fight" in order to help raise funds for PHC's Going Home effort.
Lawrence Scott, in the blue corner, was weighing in at 180lbs for the "fight", while Minister Scott was tipping the scales at 200lbs, and as the Minister pointed out, he also had an extra 20 years on his opponent age-wise.
Deputy Premier Michael Dunkley and MP Jeff Sousa were in attendance to cheer on their fellow MPs as they battled furiously in the ring.
The MPs were "knocked out" a few times, hitting the ground during the fight. The big sumo suits didn't make it easy for the MPs to move, however spectators sprung to action to help them get off the ground during the match.
The match came to an end with the MPs have "fought" to a draw, and the PHC Fun Day continues with bullriding, a six a side football match and other events.  You can view all our coverage of Good Friday here.
Photos by Kondwani Williams, click to enlarge:
Read More About