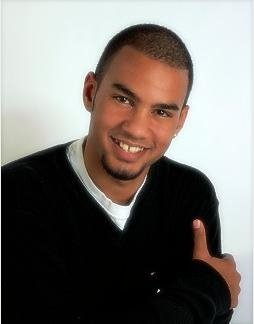 With the tour of hit show "Motown the Musical" recently kicking off in Chicago, Illinois, Bermudian actor Nicholas Christopher, a member of the show's original cast who is currently playing Smokey Robinson in the production, was interviewed by Broadway World about growing up in Bermuda, the role that Motown-era music played in his upbringing, and how it feels to play the role of an icon that has been on-hand to see his work.
Mr. Christopher's family includes father Ed Christopher, Hamilton's Town Crier, and brother Jonathan, who is also known for his on-stage performances.
Jonathan won rave reviews last year as the sardonic Emcee — the role which won Joel Grey a Tony Award in the original Broadway production and an Oscar in the subsequent 1972 film version of "Cabaret" — in Way Off Broadway's [WOB] revival of the musical.
Opera has taken Jonathan to stages in Michigan, Montreal, North Carolina, New York and Milan, Italy, in roles including the illustrious Don Giovanni, Figaro in "The Marriage of Figaro" and Marcello in "La Bohème."
Nicholas Christopher said, "Growing up, music was a big part of my family. My dad is a singer in Bermuda, my brother is an opera singer, and my sister was the head of her gospel choir at Boston College. So, it's definitely the family business.
"I don't even remember the first time I heard Motown music because it was just woven into the fabric of my life, of my culture.
"I really love different types of music. Like I said, I was brought up with music. My dad sings everything from reggae to Motown to Lou Rawls.
"My brother's an opera singer, so I had that growing up, as well as my sister singing gospel. So, I've always had an eclectic taste for music."
When asked about the pressure of playing Smokey Robinson on stage while the iconic singer sat in the audience, Mr. Christopher expressed his original concern at his performance doing Robinson justice before receiving his blessing.
"This songwriter who's written for everybody, who's phenomenal, is sitting in the audience and I'm singing his music in front of him. I was like, I hope I do him justice," said Mr. Christopher.
"But, it was wonderful, because when he came up onstage after the show, he gave me a hug and said I did a great job and that he gives me his blessing. So, after that, I was floored. And, after I picked my jaw up off the floor, I thanked him for that.
"I don't know if I approached [playing Smokey Robinson] differently. It almost made it easier because I can go and I can look Smokey Robinson up on YouTube, I can listen to his music and his records.
Nicholas Christopher and the cast of "Rent" salute Regis Philbin in 2011
"I can truly try to get the essence of who he is and see how he fits into the story and the way I can bring out different Smokey-isms throughout the story. But, then, also bring out my own 'ism' throughout the story and try to find it."
Nicholas Christopher and the rest of the cast of "Motown the Musical" are currently performing their show at Chicago's Oriental Theatre through August 9, 2014. Tickets are available online or by calling 800-775-2000.
Read More About
Category: All, Entertainment, Music