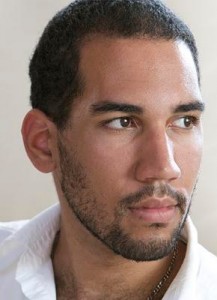 While brother Nicholas prepares for his Broadway debut in "Motown: The Musical" later this month, Bermudian baritone Jonathan Christopher has been taking a break from his duties as resident artist at the Syracus Opera in upstate New York to remind Iowa theatre-goers that life is indeed a cabaret, old chum.
Mr. Christopher won rave reviews as the sardonic Emcee — the role which won Joel Grey a Tony Award in the original Broadway production and an Oscar in the subsequent 1972 film version of "Cabaret" — in Way Off Broadway's [WOB] revival of the musical.
Iowa's only professional musical theatre company, WOB's production of "Cabaret" opened on March 28 and runs until tonight [Apr. 7] in Fairfield's Sondheim Centre.
There will be two subsequent performances of the show — set in 1931 Berlin during the dying days of the Weimar Republic –on April 13 and 14 and at the Coraville Centre in Coralville, Iowa.
The production was adapted from the second Broadway revival of "Cabaret" which opened in 1998 and become the third longest-running revival in Broadway musical history.
The WOB production, directed by Randal K. West, featured the Iowa musical-theatre debut of Lyric Benson — daughter of renowned singer/songwriters Robby Benson and Karla DeVito — as "Cabaret's" nightclub performer heroine Sally Bowles. The pop songstress released her first album last year titled — "Love Live Revolution" –with lyrics by herself and music by her father.
Jonathan Christoper in the current Way Off Broadway production of "Cabaret"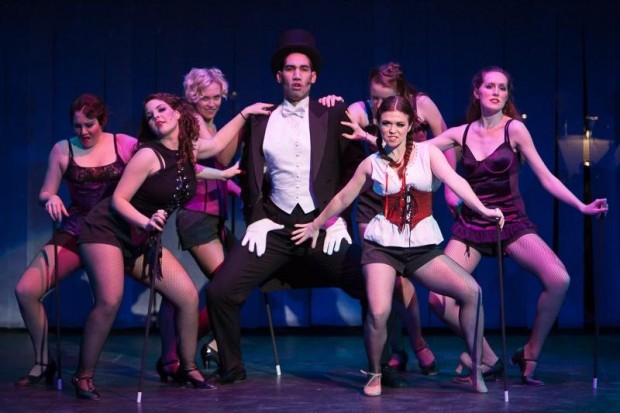 Mr. Christopher — who previously appeared in WOB's production of "Plaid Tidings" –was raised in Bermuda and Massachusetts before completing studies in opera and theatre at Montreal's McGill University and at the University of Michigan.
Opera has taken Mr. Christopher — the son of Hamilton crier Ed Christopher — to stages in Michigan, Montreal, North Carolina, New York and Milan, Italy, in roles including the illustrious Don Giovanni, Figaro in "The Marriage of Figaro" and Marcello in "La Bohème."
Theatre credits include Mr. Lindquist in "A Little Night Music", Corin in "As You Like It", The Priest in Wole Soyinka's "Madmen and Specialists", and the title role in "Sweeney Todd."
Baritone Jonathan Christopher — in Bermuda shorts — singing Stephen Sondheim's "My Friends"
Featuring such classic numbers as "Cabaret," "Mein Herr," "Don't Tell Momma," "Maybe This Time," Money," "If You Could See Her Through My Eyes," and "Tomorrow Belongs to Me," "Cabaret" is filled with music and situations that evoke the decadence and danger of life in pre-World War Two Germany during the Nazi Party's rise to power.
Based on the play by John Van Druten and stories by Christopher Isherwood, "Cabaret" features a book by Joe Masteroff, music by John Kander and lyrics by Fred Ebb.
Read More About
Category: All, Entertainment, Music