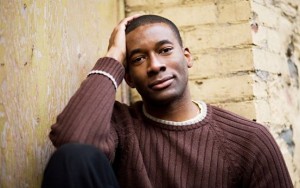 Bermudian actor Daren A. Herbert is getting set to play the lead role in "Welcome Back To Harlem: A Hellfighter's Story" with Rooted Theatre in Vancouver, Canada, with the theatre turning to the online community for help in funding the production.
According to the theatre's promotional material, "Welcome Back To Harlem: A Hellfighter's Story" is set against the backdrop of the dynamic Harlem Renaissance art scene and offers its audience live music, singing, dancing and poetry.
"The compelling play was written by up-and-coming Vancouver writer Tito Kamel, who was inspired by his research into the story of the 369th Infantry Regiment, nicknamed the Harlem Hellfighters.
"The story surrounds the first all-black regiment who was sent overseas to fight in France against the Germans in WWI. When the play's African American hero returns to Harlem after heroically fighting for his country abroad, he struggles to reintegrate into his community.
"When our hero, Martin, played by Bermudian actor Daren Herbert, comes back to Harlem after fighting in World War 1, he can no longer relate to his former love, Maya, or his friends who are eager to have him jump into the flourishing art scene of the Renaissance. Torn between his desire to be the man he used to be and the man who was transformed by the war, Martin takes the audience on a tour of the jazz bands, singers, dancers, and poets of the Harlem Renaissance."

"Get ready for such great artists as Ella Fitzgerald, Louis Armstrong, Josephine Baker, the Nicholas Brothers, and many more to grace the stage while Martin struggles to find his way.
"Being an independent theatre company, Rooted Theatre needs your support to make this show the best it can be. Please consider donating the $35 cost of admission to this unique and original production. If you are not in Vancouver and therefore cannot see the show, please make a donation to our Kickstarter campaign.
"The campaign ends on Sunday, June 8, so all donations must be in by then. If we do not reach our goal of $5,000, we will get nothing; we're counting on your generosity."
Read More About
Category: All, Entertainment, News