The Ministry of Public Works today [June 3] advised that the Government's voicemail service — which was damaged during a lightning storm over a week ago — has not yet been restored.
A spokesperson said, "The necessary equipment parts are in the process of being ordered and replaced.
"However, due to the age and proprietary nature of some of the components and limited stocking by distributors, it will take at least ten working days to receive the parts and restore the voice mail system to full service.
Lightning bolts over Hamilton during the recent lightning storm: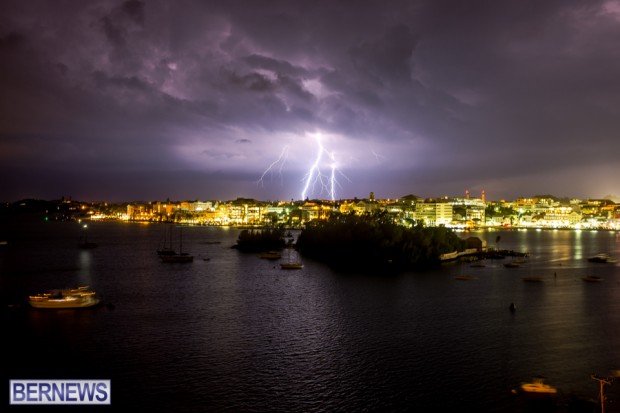 "A temporary solution is currently being undertaken to return the voice mail service to the main phone line auto attendant and a number of selected phone lines within Government," added the spokesperson.
"For the time being, with the exception of the Department of Maritime Administration, members of the public are encouraged to visit the blue pages of the Bermuda Yellow Pages Telephone Directory for a listing of Government departments to call directly or visit www.bermudayp.com.
The Ministry said they would like to apologize to the public in advance for any inconvenience.
Read More About
Category: All, News, technology